Leeds
West Yorkshire

River Aire and station south entrance Trinity Leeds Albion Place Leeds Town Hall Leeds Dock Leeds is a major city 22 miles south-west of York and 9 miles east of Bradford.

Like most of its West Yorkshire neighbours, Leeds grew during the industrial revolution as a woollen mill town but now assumes greater importance as a commercial, financial and legal centre.

It offers city centre and out-of town shopping centres, universities, theatres, nightlife and transport links through its major station and the airport it shares with Bradford around 7 miles north west of the city centre at Yeadon.

Leeds is the administrative centre of the metropolitan district run by Leeds City Council. This also includes a ring of small towns around Leeds, among them Morley (5 miles), Pudsey (6 miles), Yeadon (8 miles), Guiseley (9 miles), Garforth (7 miles), Rothwell (5 miles) and further afield Otley (11 miles) and Wetherby (12 miles). The district also has a number of small villages spaced out in agricultural countryside mainly to east of the city.

The Leeds metropolitan district is one of a ring of five metropolitan districts which make up the county of West Yorkshire, with Leeds occupying the north-eastern corner. About one-third of the West Yorkshire population live in Leeds.


City features



Leeds is the city where Marks & Spencer traces its roots to a Penny Bazaar stall in the city's Kirkgate Market in 1884. The city still has popular market stalls and its Kirkgate Market was voted the nation's "Favourite Market" in 2016 National Association for British Markets Authorities awards. The city has grown into a large and thriving retail centre with many big high street names and department stores vying for attention with smaller shops providing fashions unique to the city. The city's Victorian arcades are splendidly refurbished and an abundance of new shopping centres have been tied into the existing traditional shopping streets. The area around the city also has out-of-town shopping centres, the largest being the White Rose Shopping Centre, near Beeston.

---

The city centre has a huge selection of pubs, bars and nightclubs, with many other venues scattered around the city's districts.

---

Leeds has a wide range of eating establishments catering for all tastes.

---

Leeds city centre has post offices at the St Johns Centre, Albion Street, and at The Markets, New York Street. There are also branches in some districts of Leeds.
---

The city is a major banking centre with commercial and investment banks as well as consumer banks and building societies.

---

Leeds has many pharmacies in its city centre and in its districts.

---

Leeds Central Library is at Municipal Buildings in Calverley Street. The library is operated by Leeds City Council which also operates more than 30 other libraries together with a mobile library service throughout its wide metropolitan district.
More information can be found at the

Leeds City Council - Libraries web pages.

---

The River Aire flows through Leeds.

---

The Leeds and Liverpool Canal and Aire and Calder Navigation reach Leeds.

---

St Anne's Cathedral
Great George Street
St Anne's Cathedral is the centre of the Catholic Diocese of Leeds. The church opened in 1838 as successor to earlier chapels in Leeds and was elevated to cathedral status in 1878.
More information at the

Diocese of Leeds website.


---

Leeds Minster
Kirkgate
Leeds Minster was until 2012 Leeds Parish Church. Dedicated to St Peter, it was consecrated in 1841 after the grand church was built with 1,600 seats to replace an earlier parish church as the town of Leeds grew into an industrial city.
More information at the

Leeds Minster website.

---
Entertainment
Leeds Playhouse
Playhouse Square, Quarry Hill
Offers a creative hub and presents local, national and international companies and artists. While still having county-wide impact among the many theatre choices within the towns and cities of West Yorkshire, the Playhouse has returned its heart to the city of Leeds after changing its name back from West Yorkshire Playhouse in June 2018.

---
City Varieties
Swan Street
With a history dating back to 1865, this city centre venue once used by BBC TV's "The Good Old Days" continues the tradition of Victorian Music Hall entertainment into the 21st century.

---
First Direct Arena
Arena Way
Major entertainment "super theatre" hosts live music, comedy, entertainment and sporting events.

---
Sport
---
Leeds United
Leeds United play in the Championship league at Elland Road, Beeston


Leeds United official website.


---
Leeds Rhinos
Winners of the 2017 Super League Grand Final, Leeds Rhinos play at the Headingley Carnegie Stadium


Leeds Rhinos official website.


---
Yorkshire County Cricket Club
Based at Headingley Cricket Ground


Yorkshire County Cricket Club official website.


---
Universities
University of Leeds
Founded in 1904, the University of Leeds is one of the largest in the UK with a campus around Woodhouse Lane, a short walk from the city centre.


University of Leeds website.

---
Leeds Beckett University
Leeds Beckett University links its history in education back to the Leeds Mechanics Institute in 1824 but represents an amalgamation of several Leeds colleges over the years before becoming the Leeds Metropolitan University in 1992 and changing its name to Leeds Beckett University in 2014. The University is connected between a City centre campus, a Headingley Campus at Beckett Park and facilities at the Headingley Carnegie Stadium.


Leeds Beckett University website.

---
Leeds Trinity University
Brownberrie Lane, Horsforth
Leeds Trinity University is based on a campus in Horsforth, six miles north west of Leeds city centre. It traces its establishment back to 1966 as two Catholic teacher training colleges. It gained full university status in 2012 and is building a new student accommodation block for September 2016.


Leeds Trinity University website.

---
University of Law
Park Row
The University of Law has established one of its centres in a seven-storey building in the heart of Leeds city centre.


University of Law website.

---
Museums
Royal Armouries Museum
Royal Armouries Museum Armouries Drive, Leeds Dock, Leeds
The Royal Armouries opened a museum in Leeds in 1996 to display some of the large national collection of arms and armour historically based at the White Tower of the Tower of London. Housed in a purpose-built modern building at Leeds Dock, near the city centre, arms and armour from Britain and across the world is exhibited in themed galleries, with a programme of live shows and demonstrations. The museum opens daily from 10am to 5pm with last admisssion at 4.30pm.
More details at the

Royal Armouries website.

---
Thackray Medical Museum
Interactive galleries show the world of medicine from the Victorian age to modern scientific breakthroughs. The museum also offers a library and resource centre.
Further information at the

Thackray Medical Museum website.

---
Leeds City Museum
Millennium Square
Includes exhibitions centred on the life of Leeds and natural history.
Details at the

Leeds City Museum web pages.

---
Leeds Industrial Museum
Armley Mills, Canal Road, off Kirkstall Road, Armley
Once the world's largest woollen mill, Armley Mills now tells the story of the rich industrial heritage of Leeds. It is located alongside the River Aire and Leeds and Liverpool Canal at Armley, about two miles from Leeds city centre.
More information at the

Leeds Industrial Museum web pages.

---
Places to visit
Kirkstall Abbey
Kirkstall Abbey
Abbey Road, Kirkstall
The ruins of the Cistercian Kirkstall Abbey, dating from 1152, are in public parkland alongside the River Aire at Kirkstall, 3 miles north-west of Leeds city centre.

More information at these

Leeds City Council - Kirkstall Abbey web pages.
Find on map:

Kirkstall Abbey
---
Middleton Railway
Middleton Railway
Moor Road, Hunslet, Leeds
The world's oldest working railway is now operated by volunteers who run trains mostly at weekends. The railway was first opened as a horse-drawn colliery railway in 1758 and was the first to successfully use steam locomotives commercially in 1812. The line was not built as a passenger railway, but solely for carrying coal. Passengers can now make the journey between Moor Road station and Park Halt at the edge of the attractive woodland of Middleton Park, where there are displays about the past coal mining in the area. The line has a timetable of diesel and steam operating days and special events and the engine shed is a celebration of the numerous manufacturers, among them Hudson, Hudswell Clarke and Manning Wardle, which once made Leeds the biggest producer of railway locomotives in the country. The railway is about 2 miles south of Leeds city centre close to Junctions 5 & 6 of the M621.

More information at the

Middleton Railway website.

---
Roundhay Park and Tropical World
Prince's Avenue, Roundhay
Roundhay Park is a popular large park 3 miles north of Leeds city centre, owned by Leeds City Council, with more than 280 hectares of parkland, woodland, lakes and gardens. It also has cafes and is the location of Tropical World, which holds a large collection of tropical plants, birds and reptiles, a butterfly house, aquariums and other animal enclosures, including the ever-popular meerkats.
Further details at the

Roundhay Park pages of the Leeds City Council website.

---
Temple Newsam House
Temple Newsam House

Temple Newsam Road, off Selby Road, near Colton, Leeds
Temple Newsam House dates from Tudor and Jacobean times and is surrounded by more than 600 hectares of parkland and gardens, which include a rare breeds farm. The gardens were designed by Lancelot 'Capability' Brown in the 1760s. Leeds City Council now own the country house and estate, which is open to the public. The house has previously been used as an art museum but there has now been refurbishment of rooms to period styles to match the outstanding restored exterior of this Grade I listed building. There are fees for admission to the house and to the farm.
More information at the

Temple Newsam House pages of the Leeds City Council website.

---
Travel
Leeds station
New Station Street
Leeds station is a major rail hub for inter-city, regional and local services with around 29 million passenger journeys a year, making it the UK's third busiest railway station outside London.
Station managed by: NETWORK RAIL.
Operator/s: NORTHERN, TRANSPENNINE EXPRESS, LNER, CROSS COUNTRY, EAST MIDLANDS RAILWAY.



NORTHERN - Departure and station info
Link to Northern - external website providing information on all services at this station.



Leeds City Bus Station
York Street
A range of bus services to surrounding cities and towns operates from the Leeds City Bus Station. Many bus services also operate to the districts of Leeds from stops in city centre streets.


Road travel
Leeds city centre is just a few miles from the M1 motorway providing convenient links south towards Sheffield and London, and north via the

A1(M)

towards North East England. The

M621

motorway links the city to the

M1

southbound in one direction and towards the

M62

westbound towards Huddersfield, Manchester and Liverpool. Roads within the city are often congested at peak times. The

A58(M)

/

A64(M)

offers a busy through route partly beneath the city, but despite its urban motorway designation is little more than a 40mph dual carriageway clearway where entry and exit slip roads require particular careful attention.

The city now has parking off the motorway at park and ride schemes at the A643 next to Elland Road stadium at Beeston, which is near M621 junctions 1 and 2, also at Temple Green on the A63, near to junction 45 of the M1. Leeds is the West Yorkshire city chosen by central government to get extra funding to enhance its bus provision and now the Elland Road park and ride has a mini bus station for passengers to shelter in for the PR1 route running into the city centre every 10 minutes or less.
Leeds Bradford Airport
Location: Yeadon
Offers national, European and international flights. The airport is around 7 miles north west of Leeds city centre (8.5 miles by road).

A Flyer A1 bus runs from Leeds city bus station and from outside the railway station to the airport in just over half an hour.



Airport website
---
The HS2 effect
Our new Yorkshire.guide study has assessed cities and major towns throughout the Yorkshire region for the benefits HS2 will bring in travelling from Yorkshire to London when the proposed section between the Midlands and Leeds is complete in 2033. The line is also planned to link to existing lines to Sheffield and York. Each city or town has been given one of three simple ratings based on convenience and time saved over existing services.


White elephant:
Takes the same time or longer than an existing service* or saves less than 10 minutes while now causing a change of trains. (* or HS2 completed to Manchester).

Coffee break:
Saves 10 to 45 minutes. Time for a cup of coffee at your destination rather than on the train?

City slicker:
Saves 45 minutes or more on existing service getting you to that all-important London meeting in good time.
We've been fairly generous to HS2 in making the assessment. Where a change of trains is now needed, we have assumed that you are on the fastest train to the station where you change to HS2, that it arrives on time, you have 10 minutes to change to the HS2 platform and an HS2 train is waiting to depart at that time. No assessment is made of additional journey costs possible in connecting to or travelling on HS2. The assessment is made on journeys from Yorkshire to London with again no account taken of any convenience or inconvenience in arrival at London Euston rather than London King's Cross station. Further details about our study can be found on The HS2 Effect page.
Leeds
The fastest HS2 journeys could be as little as 1hr 21min. The higher route mileage to London may be a small price to pay, but faster running and no other town or city centre stations on the way does mean a saving of 38 minutes on the current fastest train*. If not starting your journey in Leeds city centre itself, however, some of the gain may be lost with the longer walk from connecting trains to change platform at a new station in Leeds. Also trains will arrive at Euston rather than at King's Cross.
* 1hr 59min (7.00am Leeds - Wakefield Westgate - London King's Cross service). It is noted that HS2 Ltd does not compare this fastest current service of the day in published indications of better time saving estimates for Leeds.


Emergency services
West Yorkshire Police

West Yorkshire Police website.

West Yorkshire Fire and Rescue Service

West Yorkshire Fire and Rescue Service website.

Yorkshire Ambulance Service NHS Trust

Yorkshire Ambulance Service NHS Trust website.


Local government
Metropolitan district council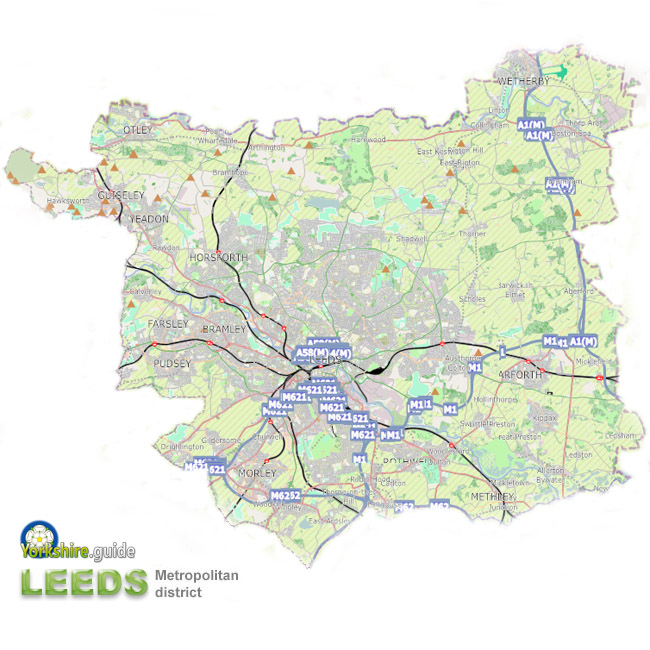 City of Leeds

The City of Leeds authority covers an area extending several miles beyond the city itself, including areas of agricutural land with widely spaced villages to the north east and several separate small towns including Garforth, Guiseley, Morley, Otley, Pudsey, Rothwell, Wetherby and Yeadon.

Leeds is just one of a ring five metropolitan councils covering the many cities, towns and villages of the conurbation of West Yorkshire. Around one-third of the West Yorkshire population live in the Leeds metropolitan district, just over ¾ million at the time of the 2011 census.

In the City of Leeds metropolitan district a total of 99 councillors are elected. There are three councillors per ward across 33 wards. Councillors are usually elected for four-year terms, one councillor being elected in each of three years out of four. In 2018 all 99 were elected following a ward boundary review. A Lord Mayor of Leeds is elected from the council each year.





Political composition after the May 2021 election:
99 members ( 6 = Morley Borough Independents | 3 = Garforth and Swillington Independents )
---
County strategic authority
West Yorkshire Combined Authority
Covers some combined services of the five metropolitan district councils of West Yorkshire -

Bradford,

Calderdale,

Leeds,

Kirklees and

Wakefield - which were at one time provided by a West Yorkshire metropolitan county council, with the addition of the non-contiguous unitary authority area of the City of

York council as well as the unelected Leeds City Region Enterprise Partnership.

Operates with elected mayor Tracy Brabin as chairman and as decision-maker for some responsibilities after May 2021 election.

West Yorkshire Combined Authority website.

---
Police and Crime Commissioner
The Police and Crime Commissioner for West Yorkshire
This role has become one of the many responsibilities of the West Yorkshire elected mayor since May 2021.



West Yorkshire Combined Authority website.

---
Fire Authority
West Yorkshire Fire Authority
The fire authority is made up of elected members of each of the five metropolitan district councils of West Yorkshire - Bradford, Calderdale, Leeds, Kirklees and Wakefield.


West Yorkshire Fire Authority web pages.

---
Ceremonial county
West Yorkshire

---
Historic
Municipal borough 1836-1889
County borough 1889-1974 (within the West Riding of Yorkshire)
City charter from 1893

---
Also in Yorkshire.guide
New
Places to visit
Gazetteer
---