Guiseley
West Yorkshire
Guiseley is a small town in the Leeds metropolitan district of West Yorkshire.

Guiseley is 9 miles north-west of Leeds city centre, 7 miles north-north-east of Bradford city centre, 2 miles (3 miles by road) south of Otley and just under 3 miles to the west of Leeds Bradford Airport in neighbouring Yeadon.

Guiseley became established in Saxon times around a spring which still exists today as Guiseley Wells, although there is also evidence of some earlier settlement in the area,

The first church in Guiseley was built in the mid 12th century and the present St Oswald's Church traces its origins back to a rebuilding about a century later. There have been various extensions and alterations since then, not least its tower and porch from the 14th century. Among the many weddings there over the years was that in December 1812 of the Rev Patrick Brontë and Maria Branwell, parents of the famous literary sisters.

Guiseley TheatreOn Boxing Day in 1867, Guiseley opened its new Town Hall, which provided a location for the town's council offices and social events and also did wartime service as an auxiliary hospital in the First World War and as the Air Raid Precautions centre in the Second World War. When Guiseley was absorbed into the Leeds metropolitan district in 1974 it fell into neglect. When the city council decided to sell the building, the Guiseley Amateur Operatic Society was behind a local campaign to save it for the community which was eventually done by the formation of the Guiseley Theatre, which now offers the refurbished building as a theatre and events venue.

Guiseley was for many years famous for Harry Ramsden's fish and chip shop. After early expansion to become the "world's largest" fish and chip shop, the business ran for more than 80 years before closing its original restaurant in 2011. A fish and chip shop and restaurant continues at the premises today after the Wetherby Whaler reopened the site a year later. Another famous fish and chip shop in Guiseley was that in Springfield Road, where Harry Corbett of glove puppet Sooty fame, grew up in the 1920s with his parents who then ran the shop.

Oxford Street, GuiseleyThe Green, GuiseleyGuiseley's busy main street is the A65 Otley Road which is often congested with commuter traffic heading between the towns in Wharfedale and Leeds. The A6038 Bradford Road branches from the A65 towards Bradford just outside Guiseley town centre. There are also shops on some of the older routes through the town and in recent years additional shops have been added in retail parks at the edge of the town centre. Guiseley has a station on the line from Ilkley providing trains to both Bradford and Leeds.


Town features
---

Guiseley has a choice of pubs.
---


The town has a range of shops and supermarkets and edge-of-town retail parks.
---

The town has a Post Office.
---

The town has a pharmacy.
---

Guiseley has a bank.
---

Takeaway food outlets in the town include fish and chips, chicken, chinese, curries, pizzas, burgers, sandwiches.
---

The town has cafes and coffee shops.
---

Restaurant dining can be found in Guiseley.
---

The town has a leisure centre with swimming pool - Aireborough Leisure Centre.
---

Guiseley has a theatre - Guiseley Theatre.
---

The town has a park - Nunroyd Park.
---

Guiseley has schools.
---

Places of worship: Anglican, Methodist, Baptist, other.
---
Travel
Guiseley station
Station managed by: NORTHERN.
Operator/s: NORTHERN.



NORTHERN - Departure and station info
Link to Northern - external website providing information on all operators' services at this station.

Bus travel
The town has bus services to neighbouring towns and villages and city centres.
Road travel
Guiseley can be reached via the

A65

A6038

B6153
---
Places to visit
Otley Chevin Country Park
East Chevin Road, Otley
The Otley Chevin Country Park is a forested hillside with rocky outcrops offering magnificent views across Otley and the Wharfe Valley, a network of paths to explore, a variety of wildlife and some interesting tree sculptures. The Chevin is an area with strong evidence of hunting in the stone age with thousands of flint arrowheads and knives having been found there. Cup and ring marked rocks dating from the bronze age are scheduled ancient monuments. Two areas of an iron age settlement were discovered in the 1960s and an archaelogical dig in the 1990s found evidence of a hut circle within a rubble enclosure. Much of the forestry in the area was planted in the 1950s and 1960s and it became a local nature reserve in 1989. There are car parks with access to the country park at East Chevin Road and Yorkgate.
Further information can be found at the

Leeds City Council - Otley Chevin Country Park and

Friends of Chevin Forest web pages.

---
Kirkstall Abbey
Kirkstall Abbey
Abbey Road, Kirkstall
The ruins of the Cistercian Kirkstall Abbey, dating from 1152, are in public parkland alongside the River Aire at Kirkstall, 3 miles north-west of Leeds city centre.

More information at these

Leeds City Council - Kirkstall Abbey web pages.
Find on map:

Kirkstall Abbey
---
Roundhay Park, Leeds
Roundhay Park and Tropical World
Prince's Avenue, Roundhay
Roundhay Park is a popular large park 3 miles north of Leeds city centre, owned by Leeds City Council, with more than 280 hectares of parkland, woodland, lakes and gardens. It also has cafes and is the location of Tropical World, which holds a large collection of tropical plants, birds and reptiles, a butterfly house, aquariums and other animal enclosures, including the ever-popular meerkats.

Find out more at this

Leeds City Council - Roundhay Park web page

---
Harewood House
Harewood
Harewood House Harewood House, an 18th century stately country home, is at Harewood, about 7 miles south of Harrogate. It opens to visitors during a season stretching from March to October. Harewood hosts a variety of exhibitions and events as well as guided tours of the house. The house has been used to film scenes for the ITV series "Victoria" in which it has represented Buckingham Palace and Kensington Palace. Harewood has extensive grounds including more than 100 acres of gardens, parkland planned by Lancelot 'Capability' Brown, a farm experience, bird garden, deer park and the ruins of the 13th century Harewood Castle. The grounds also include the purpose-built village set of ITV's "Emmerdale", although this is not open to visitors except on selected dates on pre-booked tours via partners of the TV company.
More information can be found at the

Harewood website.
Locate on map:

Harewood House
---
Nidderdale Area of Outstanding Natural Beauty
Extending across an area of 232 square miles (600 sq km), the Nidderdale Area of Outstanding Beauty starts at the edge of Otley. The area has a beautiful and varied landscape including rolling heather-topped moorland, stone-walled agricultural fields and farms, small villages, lake-like reservoirs and some outstanding geological features, the best known of which are Brimham Rocks. For more details see our Nidderdale page.

---
Emergency services
West Yorkshire Police

West Yorkshire Police website.

West Yorkshire Fire and Rescue Service

West Yorkshire Fire and Rescue Service website.

Yorkshire Ambulance Service NHS Trust

Yorkshire Ambulance Service NHS Trust website.


Local government
---
Metropolitan district council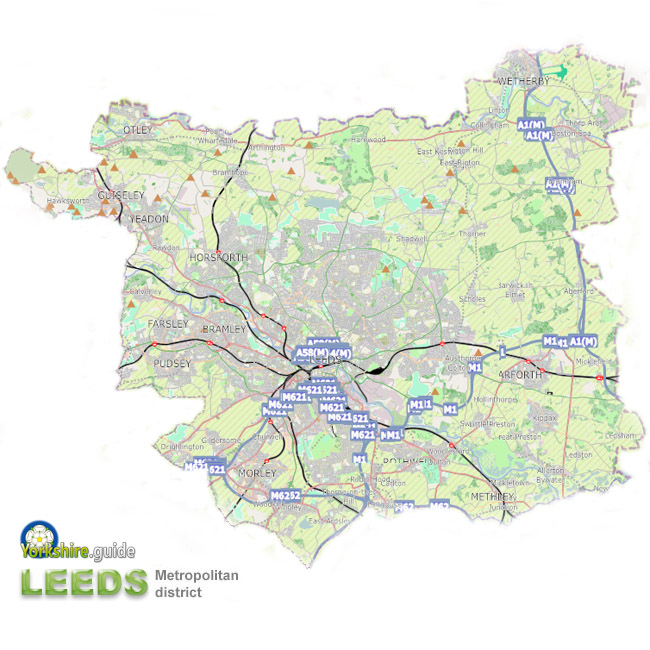 City of Leeds

The City of Leeds authority covers an area extending several miles beyond the city itself, including areas of agricutural land with widely spaced villages to the north east and several separate small towns including Garforth, Guiseley, Morley, Otley, Pudsey, Rothwell, Wetherby and Yeadon.

Leeds is just one of a ring five metropolitan councils covering the many cities, towns and villages of the conurbation of West Yorkshire. Around one-third of the West Yorkshire population live in the Leeds metropolitan district, just over ¾ million at the time of the 2011 census.

In the City of Leeds metropolitan district a total of 99 councillors are elected. There are three councillors per ward across 33 wards. Councillors are usually elected for four-year terms, one councillor being elected in each of three years out of four. A Lord Mayor of Leeds is elected from the council each year.





Political composition after the May 2022 election:
99 members
---
County strategic authority
West Yorkshire Combined Authority
Covers some combined services of the five metropolitan district councils of West Yorkshire -

Bradford,

Calderdale,

Leeds,

Kirklees and

Wakefield - which were at one time provided by a West Yorkshire metropolitan county council, with the addition of the non-contiguous unitary authority area of the City of

York council as well as the unelected Leeds City Region Enterprise Partnership.

Operates with elected mayor Tracy Brabin as chairman and as decision-maker for some responsibilities after May 2021 election.

West Yorkshire Combined Authority website.

---
Police and Crime Commissioner
The Police and Crime Commissioner for West Yorkshire
This role has become one of the many responsibilities of the West Yorkshire elected mayor since May 2021.



West Yorkshire Combined Authority website.

---
Fire Authority
West Yorkshire Fire Authority
The fire authority is made up of elected members of each of the five metropolitan district councils of West Yorkshire - Bradford, Calderdale, Leeds, Kirklees and Wakefield.


West Yorkshire Fire Authority web pages.

---
Ceremonial county
West Yorkshire

---
Historic
Within the West Riding of Yorkshire

---
Also in Yorkshire.guide
New
Places to visit
Gazetteer
---