Wetherby
West Yorkshire
Wetherby is a market town in the Leeds metropolitan district of West Yorkshire.

Wetherby is around 7 miles by road to the north-west of Tadcaster, 13 miles by road to the north-east of Leeds and around 14 miles by road to the west-south-west of York.

Wetherby is a historic market town with a royal market charter dating back to 1240.

The town's High Street was on the old A1 Great North Road until a A1 bypass and now the A1(M) was built around the town.

Town Hall, Wetherby Wetherby racecourse The town has attractive riverside walks from the town's bridge over the River Wharfe.

A long history of racing horses in Wetherby was continued when its present racecourse was opened in 1891.

Town features
---

Wetherby has one of Yorkshire's nine horse racecourses.
---

The town is on the River Wharfe.
---


Wetherby has local traders and a supermarket. Wetherby offers bakery goods, butchers, clothes, crafts, furnishings, gifts, an outdoor market (Thursday and Farmers' market on 2nd Sunday of month).
---

The town has a Post Office.
---

Wetherby has bank and building society branches.
---

The town has pharmacies.
---

Wetherby has a number of pubs to choose from.
---

Cafe and pub food is available in Wetherby.
---

Takeaway food outlets in the town include fish and chips, chinese, curries, sandwiches.
---

The town has a library.
---

The town has a leisure centre with swimming pool.
---

There are public toilets in the town with limited hours of use.
---

Places of worship: Anglican, Catholic, Methodist, Baptist.
---
Travel
Bus travel
The town has buses to neighbouring towns and villages.
Road travel
Wetherby can be reached via the

A1(M)

A58

A661

A618

B6164

B1224
---
---
Places to visit
Harewood House
Harewood
Harewood House Harewood House, an 18th century stately country home, is at Harewood, about 7 miles south of Harrogate. It opens to visitors during a season stretching from March to October. Harewood hosts a variety of exhibitions and events as well as guided tours of the house. The house has been used to film scenes for the ITV series "Victoria" in which it has represented Buckingham Palace and Kensington Palace. Harewood has extensive grounds including more than 100 acres of gardens, parkland planned by Lancelot 'Capability' Brown, a farm experience, bird garden, deer park and the ruins of the 13th century Harewood Castle. The grounds also include the purpose-built village set of ITV's "Emmerdale", although this is not open to visitors except on selected dates on pre-booked tours via partners of the TV company.
More information can be found at the

Harewood website.
Locate on map:

Harewood House
---
Spofforth Castle
Spofforth Castle
off Castle Street, Spofforth
Spofforth Castle is the ruins of a fortified manor house about 6 miles by the A661 road to the south-west of Harrogate. William the Conqueror granted Spofforth to William de Percy, a favourite who was granted many estates in Yorkshire. A manor was built and extended through the 13th century by later generations of the Percy family. It is reputed that the Magna Carta was drawn up there in 1215. Although the Percy family made Alnwick Castle, in Northumberland, their base from early in the 14th century, Spofforth remained within the family and underwent some remodelling in the early to mid 15th century. In the War of the Roses, the Percy family supported The House of Lancaster and the castle was wrecked by Yorkists who had gained victory in the 1461 Battle of Towton in which Henry Percy, Earl of Northumberland was killed. There was some 16th century restoration, but it was reduced to ruins around the time of the Civil War. The site is free to enter and managed by English Heritage.


---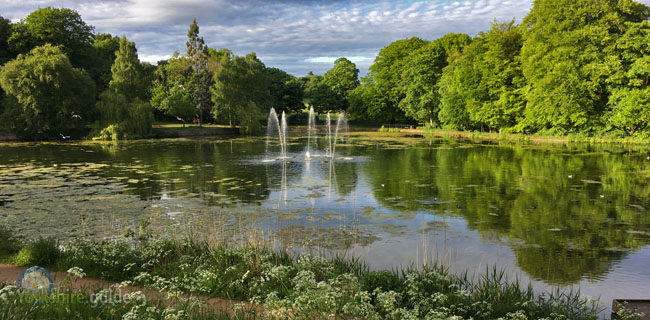 Roundhay Park and Tropical World
Prince's Avenue, Roundhay
Roundhay Park is a popular large park 3 miles north of Leeds city centre, owned by Leeds City Council, with more than 280 hectares of parkland, woodland, lakes and gardens. It also has cafes and is the location of Tropical World, which holds a large collection of tropical plants, birds and reptiles, a butterfly house, aquariums and other animal enclosures, including the ever-popular meerkats.

Find out more at this

Leeds City Council - Roundhay Park web page

---
Otley Chevin Country Park
East Chevin Road, Otley
The Otley Chevin Country Park is a forested hillside with rocky outcrops offering magnificent views across Otley and the Wharfe Valley, a network of paths to explore, a variety of wildlife and some interesting tree sculptures. The Chevin is an area with strong evidence of hunting in the stone age with thousands of flint arrowheads and knives having been found there. Cup and ring marked rocks dating from the bronze age are scheduled ancient monuments. Two areas of an iron age settlement were discovered in the 1960s and an archaelogical dig in the 1990s found evidence of a hut circle within a rubble enclosure. Much of the forestry in the area was planted in the 1950s and 1960s and it became a local nature reserve in 1989. There are car parks with access to the country park at East Chevin Road and Yorkgate.
Further information can be found at the

Leeds City Council - Otley Chevin Country Park and

Friends of Chevin Forest web pages.

---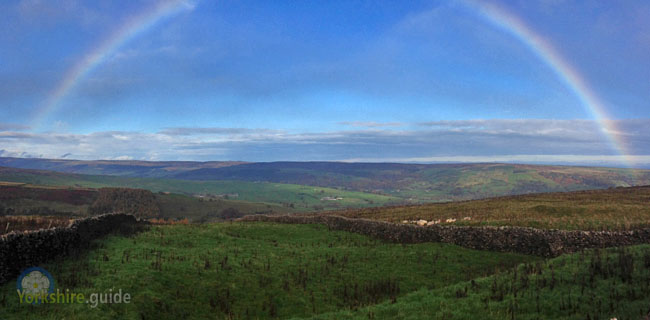 Nidderdale Area of Outstanding Natural Beauty
Extending across an area of 232 square miles (600 sq km), the Nidderdale Area of Outstanding Beauty starts at the edge of Otley. The area has a beautiful and varied landscape including rolling heather-topped moorland, stone-walled agricultural fields and farms, small villages, lake-like reservoirs and some outstanding geological features, the best known of which are Brimham Rocks. For more details see our Nidderdale page.

---
Emergency services
West Yorkshire Police

West Yorkshire Police website.

West Yorkshire Fire and Rescue Service

West Yorkshire Fire and Rescue Service website.

Yorkshire Ambulance Service NHS Trust

Yorkshire Ambulance Service NHS Trust website.


Local government
---
Civil parish council
Wetherby Town Council
Provides some local services in the area.
Link to council website

Wetherby Town Council
---
Metropolitan district council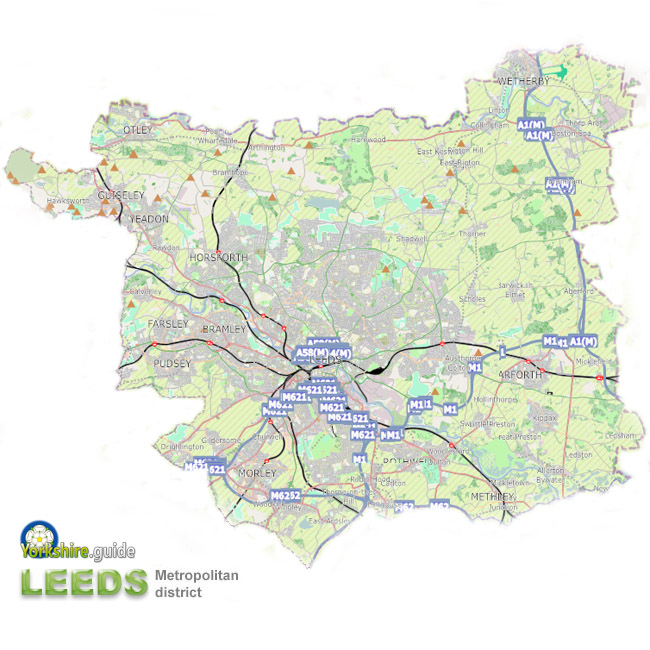 City of Leeds

The City of Leeds authority covers an area extending several miles beyond the city itself, including areas of agricutural land with widely spaced villages to the north east and several separate small towns including Garforth, Guiseley, Morley, Otley, Pudsey, Rothwell, Wetherby and Yeadon.

Leeds is just one of a ring five metropolitan councils covering the many cities, towns and villages of the conurbation of West Yorkshire. Around one-third of the West Yorkshire population live in the Leeds metropolitan district, just over ¾ million at the time of the 2011 census.

In the City of Leeds metropolitan district a total of 99 councillors are elected. There are three councillors per ward across 33 wards. Councillors are usually elected for four-year terms, one councillor being elected in each of three years out of four. In 2018 all 99 were elected following a ward boundary review. A Lord Mayor of Leeds is elected from the council each year. An election of one-third of the council due to be held in 2020 has been postponed to 2021.


The political composition after the May 2019 election was:
99 members
MBI = Morley Borough Independents. GSIG = Garforth and Swillington Independent Group.
---
County strategic authority
West Yorkshire Combined Authority
Covers some combined services of the five metropolitan district councils of West Yorkshire -

Bradford,

Calderdale,

Leeds,

Kirklees and

Wakefield - which were at one time provided by a West Yorkshire metropolitan county council, with the addition of the non-contiguous unitary authority area of the City of

York council as well as the unelected Leeds City Region Enterprise Partnership.

West Yorkshire Combined Authority website.

---
Police and Crime Commissioner
The Police and Crime Commissioner for West Yorkshire


Police and Crime Commissioner West Yorkshire website.

---
Fire Authority
West Yorkshire Fire Authority
The fire authority is made up of elected members of each of the five metropolitan district councils of West Yorkshire - Bradford, Calderdale, Leeds, Kirklees and Wakefield.


West Yorkshire Fire Authority web pages.

---
Ceremonial county
West Yorkshire

---
Historic
Within the West Riding of Yorkshire

---
Also in Yorkshire.guide
New
Places to visit
Gazetteer
---