Pudsey
West Yorkshire
Pudsey is a market town in the Leeds metropolitan district of West Yorkshire.

Pudsey is sandwiched between the cities of Bradford, around 4 miles to the west, and Leeds, around 6 miles to the east.

The A647 Stanningley By-Pass provides Pudsey town centre with relief from traffic moving between the two cities and also helps divide Pudsey from Stanningley, once a separate village into which Pudsey began to sprawl around a century ago.

Around 150 years ago, Pudsey was completely surrounded by farmland in an area bordered by woodland, but woollen mills had been built in the area and the textile revolution in Pudsey and the neighbouring cities brought with it a huge expansion in house-building, shops and other services.

Despite recent expansion of the area, Pudsey still retains some of the old world charm of its earlier existance, retaining cobbled yards with listed buildings originating in the late 17th century.

Pudsey famously lends its name to Pudsey Bear, the mascot of the BBC Children in Need charity appeal, which was named after its designer's home town.


Town features
---

The town has pubs and social clubs.
---

The town has a range of shops and an edge-of-town retail park.
---

Pudsey holds a traditional outdoor market - (Tues, Fri, Sat).
---

The town has a Post Office.
---

The town has pharmacies.
---

Pudsey has bank and building society branches.
---

A choice of cafes can be found in Pudsey.
---

Pudsey has takeaway food outlets.
---

Pudsey has a community hall.
---

The town has a library.
---

The town has a leisure centre with swimming pool.
---

Pudsey has schools.
---

Places of worship: Anglican, Catholic, Methodist, Baptist, other.
---
Travel
Bus travel
The town has bus services to neighbouring towns and villages and city centres.
New Pudsey station
New Pudsey station is about a mile to the north-west of Pudsey town centre.
Station managed by: NORTHERN. Operator/s: NORTHERN.



NORTHERN - Departure and station info
Link to Northern - external website providing information on all services at this station.

Road travel
Pudsey can be reached via the

A647

B6155

B6154
---
Places to visit
Middleton Railway
Middleton Railway
Moor Road, Hunslet, Leeds
The world's oldest working railway is now operated by volunteers who run trains mostly at weekends. The railway was first opened as a horse-drawn colliery railway in 1758 and was the first to successfully use steam locomotives commercially in 1812. The line was not built as a passenger railway, but solely for carrying coal. Passengers can now make the journey between Moor Road station and Park Halt at the edge of the attractive woodland of Middleton Park, where there are displays about the past coal mining in the area. The line has a timetable of diesel and steam operating days and special events and the engine shed is a celebration of the numerous manufacturers, among them Hudson, Hudswell Clarke and Manning Wardle, which once made Leeds the biggest producer of railway locomotives in the country. The railway is about 2 miles south of Leeds city centre close to Junctions 5 & 6 of the M621.

More information at the

Middleton Railway website.


---
Kirkstall Abbey
Kirkstall Abbey
Abbey Road, Kirkstall
The ruins of the Cistercian Kirkstall Abbey, dating from 1152, are in public parkland alongside the River Aire at Kirkstall, 3 miles north-west of Leeds city centre.

More information at these

Leeds City Council - Kirkstall Abbey web pages.
Find on map:

Kirkstall Abbey
---
Oakwell Hall and Country Park
Nutter Lane, Birstall
Oakwell HallOakwell Hall is a splendid grade I listed Elizabethan Manor house in an extensive country park near Birstall and around 4 miles north-north-west of Dewsbury. The house was built in 1583 by John Batt and is furnished as the family home in the late 17th century and is surrounded by gardens reflecting the garden styles of that period. Oakwell Hall was the inspiration of Fieldhead in Charlotte Bront&euml's novel "Shirley". The hall also has information on the English Civil War battle of Adwalton Moor, the site of which is a walk of about a mile from the hall. The Hall is surrounded by a 110-acre country park which includes woodland, farmland and a reclaimed colliery site. There are trail-marked paths around the park which includes ponds and nature information boards. There is also a visitor centre at the hall, a gift shop, playground and nature trail. There are car parks for both the house and the country park, accessed from Nutter Lane, Birstall. The hall is owned and maintained by Kirklees Council.
Find out more at the

Kirklees Council - Oakwell Hall and Country Park web pages
with further information at the

Friends of Oakwell Hall and Country Park website.
Locate on map:

Oakwell Hall
---
Emergency services
West Yorkshire Police

West Yorkshire Police website.

West Yorkshire Fire and Rescue Service

West Yorkshire Fire and Rescue Service website.

Yorkshire Ambulance Service NHS Trust

Yorkshire Ambulance Service NHS Trust website.


Local government
---
Metropolitan district council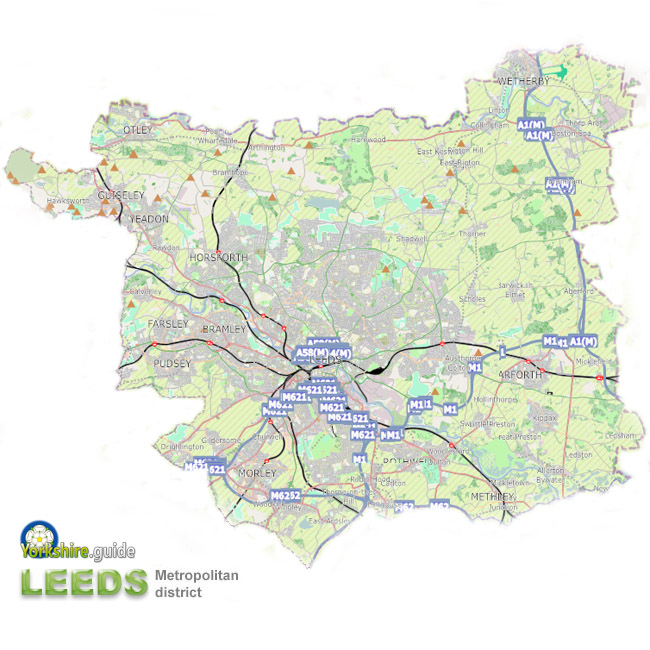 City of Leeds

The City of Leeds authority covers an area extending several miles beyond the city itself, including areas of agricutural land with widely spaced villages to the north east and several separate small towns including Garforth, Guiseley, Morley, Otley, Pudsey, Rothwell, Wetherby and Yeadon.

Leeds is just one of a ring five metropolitan councils covering the many cities, towns and villages of the conurbation of West Yorkshire. Around one-third of the West Yorkshire population live in the Leeds metropolitan district, just over ¾ million at the time of the 2011 census.

In the City of Leeds metropolitan district a total of 99 councillors are elected. There are three councillors per ward across 33 wards. Councillors are usually elected for four-year terms, one councillor being elected in each of three years out of four. A Lord Mayor of Leeds is elected from the council each year.



Political composition after the May 2022 election:
99 members
---
County strategic authority
West Yorkshire Combined Authority
Covers some combined services of the five metropolitan district councils of West Yorkshire -

Bradford,

Calderdale,

Leeds,

Kirklees and

Wakefield - which were at one time provided by a West Yorkshire metropolitan county council, with the addition of the non-contiguous unitary authority area of the City of

York council as well as the unelected Leeds City Region Enterprise Partnership.

Operates with elected mayor Tracy Brabin as chairman and as decision-maker for some responsibilities after May 2021 election.

West Yorkshire Combined Authority website.


---
Police and Crime Commissioner
The Police and Crime Commissioner for West Yorkshire
This role has become one of the many responsibilities of the West Yorkshire elected mayor since May 2021.



West Yorkshire Combined Authority website.


---
Fire Authority
West Yorkshire Fire Authority
The fire authority is made up of elected members of each of the five metropolitan district councils of West Yorkshire - Bradford, Calderdale, Leeds, Kirklees and Wakefield.


West Yorkshire Fire Authority web pages.


---
Ceremonial county
West Yorkshire

---
Historic
Within the West Riding of Yorkshire

---
Also in Yorkshire.guide
New
Places to visit
Gazetteer
---