Baildon
West Yorkshire
Baildon is a town in the Bradford metropolitan district of West Yorkshire.

Baildon is 5 miles north of Bradford and about 1.5 miles north of Shipley, 3 miles south-west of Guiseley and around 6 miles east of Keighley.

For many centuries, Baildon was a village of fairly compact size situated beyond fields at least half-way up Baildon Hill from the valley floor of the River Aire. Above the village the vast expanse of Baildon Common stretched across the moor with its traces of ancient history including cup and ring marked stones and remains of an ancient cross.

Until the start of the 20th century, only a few tiny hamlets at Lane Ends, Baildon Green, Low Baildon and a few isolated houses occupied the hillside between the village and the river, just above which a turnpike road from Shipley towards Otley was built in the 1820s.

Even the opening in 1876 of a Baildon railway station mid-way up that hillside on a new branch connecting lines at Guiseley and Shipley did not make an immediate difference. But by the end of the Victorian era, a huge expansion of population connected with the local textile industry led to the building of housing which continued to develop all the way from Baildon Wood Bottom up the hillside to the village centre and from there on to the top of Baildon Bank.

More recent house-building means there are very few remaining gaps on the hillside, and one of Baildon's most historic buildings, Baildon Hall, is now surrounded by homes in its role since 1946 as a private members' club. The hall was built in 1553 and encased in stone in the late 17th century. For many years it was the home of the Baildon family and was built on the site of a medieval manor, of which there are still traces.

Beyond the village, at the top of the hill, Baildon Common still remains a gateway to the huge expanse of moorland beyond, its ancient remains added to by many other activities over the years, including traces of old coal pits and quarrying and also, since the 1890s, a golf course.

Such has been the expansion of Baildon that it now deems itself a town, this being officially recognised when the Baildon Parish Council renamed itself Baildon Town Council in 2013.



Town features
---


Baildon has local traders and a supermarket.
---

Baildon holds occasional outdoor markets - Farmers Market usually held 4th Saturday in month (not January, earlier date in December).
---

The town has Post Offices.
---

The town has pharmacies.
---

The town has pubs and social clubs.
---

Restaurant and bistro dining can be found in Baildon.
---

A choice of cafes can be found in Baildon.
---

Takeaway food outlets in the town include fish and chips, chinese, curries, pizzas.
---

There are public toilets in the town with limited hours of use - at Northgate (Daylight hours).
---

The town has a library - at Hallcliffe.
---

The town has a sports hall - Baildon Recreation Centre at Green Lane.
---

Baildon has schools.
---

Places of worship: Anglican, Catholic, Methodist, other.
---
Travel
Bus travel
The town has bus services to neighbouring towns and villages and city centre.
Baildon station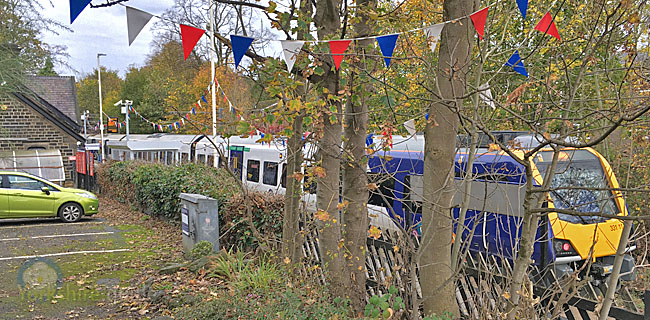 Station managed by: NORTHERN. Operator/s: NORTHERN.



NORTHERN - Departure and station info
Link to Northern - external website providing information on all services at this station.

Road travel
Baildon can be reached via the

A6038

B6151
---
---
Places to visit
---
Salt's Mill, Sailtaire
Saltaire
Near Shipley
About 4 miles north-north-west of Bradford, Saltaire village on the River Aire is a UNESCO World Heritage Site. The huge Salt's Mill, a former textile mill, is at the centre of a late 19th century village of stone houses which were built for the mill workers by architects employed by mill owner Sir Titus Salt. More information on our page about Saltaire.


---
East Riddlesden Hall
East Riddlesden HallBradford Road, Riddlesden
The attractive 17th century home of a cloth merchant includes an array of needlework from the era. The house is set in colourful and peaceful gardens with an outdoor discovery garden and children's play area. The property, around 1.5 miles to the north-east of Keighley, has a car park, accessed through its narrow entrance. The property is managed by The National Trust.
Find out more at the

National Trust - East Riddlesden Hall web pages.
Locate on map:

East Riddlesden Hall
---
Keighley and Worth Valley Railway
Keighley Station and stations along the Worth Valley
The earliest of Yorkshire's heritage railways was made famous by the film The Railway Children in 1970, but that was just the first of many TV and film appearances, now going full circle with the 2022 film The Railway Children Return. The Keighley and Worth Valley Railway has a collection of more than 30 locomotives, many of them steam locomotives, and operates the five-mile branch between Keighley, Ingrow (West), Damems, Oakworth, Haworth and Oxenhope. Passengers can change to and from the rail network's Airedale Line trains at Keighley. Add-on tickets for the K&WVR can be bought with rail tickets from any station on the rail network while the railway's station ticket offices offer a full range of tickets. The line was among the country's first preserved railways, reopening as a preservation line six years after the closure of the branch by British Railways in 1962.

Find out more at the

Keighley and Worth Valley Railway website.


---
Haworth
Haworth, around 4 miles south of Keighley, is an attractive village popular with tourists. It was the one-time home of the literary Brontë sisters, their home having now become the Bronte Parsonage Museum. The village has attractive shops and cafes on its steep cobbled Main Street. Haworth also has a station on the Keighley and Worth Valley Railway from which there is an uphill walk through Central Park to the village centre. The village can also be reached by bus from Keighley or Hebden Bridge. More on our page on Haworth.


---
Otley Chevin Country Park
East Chevin Road, Otley
The Otley Chevin Country Park is a forested hillside with rocky outcrops offering magnificent views across Otley and the Wharfe Valley, a network of paths to explore, a variety of wildlife and some interesting tree sculptures. The Chevin is an area with strong evidence of hunting in the stone age with thousands of flint arrowheads and knives having been found there. Cup and ring marked rocks dating from the bronze age are scheduled ancient monuments. Two areas of an iron age settlement were discovered in the 1960s and an archaelogical dig in the 1990s found evidence of a hut circle within a rubble enclosure. Much of the forestry in the area was planted in the 1950s and 1960s and it became a local nature reserve in 1989. There are car parks with access to the country park at East Chevin Road and Yorkgate.
Further information can be found at the

Leeds City Council - Otley Chevin Country Park and

Friends of Chevin Forest web pages.


---
Emergency services
West Yorkshire Police

West Yorkshire Police website.

West Yorkshire Fire and Rescue Service

West Yorkshire Fire and Rescue Service website.

Yorkshire Ambulance Service NHS Trust

Yorkshire Ambulance Service NHS Trust website.


Local government
---
Civil parish council
Baildon Town Council
Provides some local services in the area.
Link to council website:

Baildon Town Council
---
Metropolitan district council
City of Bradford

The City of Bradford authority covers an area extending many miles beyond the city itself, including areas of moorland of The Pennines and Ilkley Moor, parts of Wharfedale and Airedale and the Worth Valley.

The area includes many separate small towns and villages, among them Addingham, Baildon, Bingley, Burley in Wharfedale, Haworth, Idle, Ilkley, Keighley, Saltaire, Shipley and Silsden.

Councillors are elected across 30 wards with three councillors per ward.

One councillor per ward is elected for a four-year term on each of three years out of four.


Political composition after the May 2022 election was:
90 members
Political composition after the May 2023 election is:
90 members
* includes Labour & Co-operative BSI = Bradford South Independents; II = Ilkley Independent
---
County strategic authority
West Yorkshire Combined Authority
Covers some combined services of the five metropolitan district councils of West Yorkshire -

Bradford,

Calderdale,

Leeds,

Kirklees and

Wakefield - which were at one time provided by a West Yorkshire metropolitan county council, with the addition of the non-contiguous unitary authority area of the City of

York council as well as the unelected Leeds City Region Enterprise Partnership.

Operates with elected mayor Tracy Brabin as chairman and as decision-maker for some responsibilities after May 2021 election.

West Yorkshire Combined Authority website.


---
Police and Crime Commissioner
The Police and Crime Commissioner for West Yorkshire
This role has become one of the many responsibilities of the West Yorkshire elected mayor since May 2021.



West Yorkshire Combined Authority website.


---
Fire Authority
West Yorkshire Fire Authority
The fire authority is made up of elected members of each of the five metropolitan district councils of West Yorkshire - Bradford, Calderdale, Leeds, Kirklees and Wakefield.


West Yorkshire Fire Authority web pages.


---
Ceremonial county
West Yorkshire

---
Historic
-1974 Within the West Riding of Yorkshire.

---
Also in Yorkshire.guide
New
Places to visit
Gazetteer
---