Saltaire
West Yorkshire
Saltaire is a village in the Bradford metropolitan district of West Yorkshire.

About 4 miles north-north-west of Bradford, Saltaire village has, since 2001, been a UNESCO World Heritage Site.

Saltaire is at the edge of Shipley and about 2.5 miles south-west of Bingley.

The village owes its existence to Sir Titus Salt, a mill owner, second mayor of Bradford, visionary philanthropist and politician. Its name is a combination of his surname with the River Aire, which is alongside the village.

On his 50th birthday in 1853, Sir Titus Salt moved his textile mills to a massive new textile mill he built there, sandwiched between the Leeds and Liverpool canal and then recently completed railway into Leeds and Bradford. Sir Titus employed his architects to create around it a model Victorian village of around 800 high-quality stone terraced houses. Over the next 20 years would be developed many local amenities such as public baths, an educational institute, reading rooms, gymnasium, schools and the Saltaire Congregational Church, now grade I listed as the Saltaire United Reformed Church.

Many of the facilities were based in The Saltaire Institute, a building opened in 1871 and now renamed Victoria Hall and today used as a concert and events venue.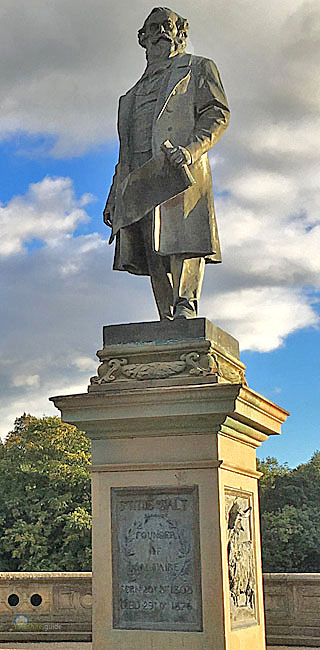 Sir Titus died in 1876, aged 73, and is commemorated with a statue in Roberts Park in the village, placed their by Sir James Roberts, who by the turn of the century had bought the Salt empire. The Saltaire Park, opened in 1871 by Sir Titus as a place for the recreation of his workers, was renamed by Sir James as Roberts Park, in memory of one of his sons, before the park was donated in 1920 to the council as a public park.

The attractive riverside park has, since 2003, been the centre of the annual Saltaire Festival, an annual event of arts, music, activities, food and drink usually spread over 10 days in September.

Today Salt's Mill is divided into multiple uses, including music, arts, antique and jewellery businesses, cafes, exhibition space and art galleries, including exhibitions of the work of internationally-renowned Bradford-born artist David Hockney.

Part of UNESCO's listing of the village reads:"The industrial village of Saltaire is an outstanding example of mid 19th century philanthropic paternalism, which had a profound influence on developments in industrial social welfare and urban planning in the United Kingdom and beyond."

Village features
---

The village is on the River Aire.
---

Saltaire is on the Leeds and Liverpool Canal.
---

The village has a historic heritage as a Victorian mill owner's model village and is now a UNESCO World Heritage Site.
---

Saltaire has historic houses.
---

Saltaire has a concert hall.
---

Saltaire has a choice of pubs.
---

Restaurant and bistro dining can be found in Saltaire.
---

A choice of cafes can be found in Saltaire.
---

Takeaway food outlets in the village include chinese, pizzas.
---


Saltaire has local traders and a supermarket.
---

Saltaire holds occasional outdoor markets.
---

The village has a Post Office.
---

The village has a pharmacy.
---

Saltaire has an art gallery.
---

The village has a park.
---

Saltaire has a community centre.
---

Saltaire has schools.
---

Places of worship: Methodist, United Reformed.
---
Travel
Bus travel
The village has buses to neighbouring towns and villages.
Saltaire station
Station managed by: NORTHERN.
Operator/s: NORTHERN.



NORTHERN - Departure and station info
Link to Northern - external website providing information on all services at this station.

Road travel
Saltaire can be reached via the

A650

A657

A6038
---
Places to visit
Bolton Priory and River Wharfe at Bolton Abbey
Bolton Priory
Bolton Abbey, North Yorkshire
The beautiful setting at Bolton Abbey in the Yorkshire Dales National Park is one of the most visited monastic sites in Yorkshire. Beside the River Wharfe are the ruins of Bolton Priory, where the nave of the priory church still survives as a parish church. The Augustinian priory was founded in 1154 and continued until the dissolution in 1539. The abbey has been carefully managed by the Devonshire family since 1755 and now has car parking, gift shops, tea rooms, restaurants and facilities for weddings and corporate events. There is an extensive network of footpaths around the estate and one ancient right of way is the 60 stepping stones across the River Wharfe. Other paths lead into the ancient Strid Wood beside the river. Bolton Abbey is 5 miles east-north-east of Skipton (7 miles by road) and 5 miles north-west of Ilkley.

More information at

Bolton Abbey visitor website and at the

Priory Church website.
Find on map:

Bolton Abbey
---
Skipton Castle
Skipton Castle
The Bailey, Skipton, North Yorkshire
Skipton Castle is one of England's best restored medieval castles, standing between the town of Skipton and the top of a rocky cliff over the Eller Beck. The castle was first built as a Norman fort at the end of the 11th century, but was replaced in stone and in the early 14th century turned into a formidable stronghold after being granted to the Clifford family by King Edward II. Inside, the castle reveals how it was modified over the centuries, including a charming early Tudor courtyard with a yew tree growing at its centre. The castle was the scene of a Royalist last stand in the north during the English Civil War when it withstood a three-year siege until 1645. After the castle yielded, it was ruined by the Parliamentarians in the winter of 1648-9, but between 1657 and 1658 Lady Anne Clifford saw it carefully restored. The castle is open daily.

Find out more at

Skipton Castle website.
Find on map:

Skipton Castle
---
Embsay station
Embsay and Bolton Abbey Steam Railway
Bolton Abbey station Embsay, near Skipton, to Bolton Abbey station
Operates from Embsay, about 1.5 miles from Skipton, to Bolton Abbey station about a mile away from the attractive priory ruins and beauty spot beside the River Wharfe at Bolton Abbey. The railway runs trains on most days during the summer and at weekends at other times of year, except January. It also has a range of special weekend events, dining trains and footplate and signal box experience courses. Tank engines are the mainstay of steam operations on the line, but the railway also has a collection of historic diesel locomotives.

More information at the

Embsay and Bolton Abbey Steam Railway website.
Find on map:

Embsay Station
---
Ilkley Toy Museum
Whitton Croft Road, Ilkley
The museum features one of the finest private collections of toys with exhibits dating from 350BC to the present day. It includes early English wooden dolls and dolls houses, teddy bears, fairground models, tin-plate toys and die-cast vehicles, toy soldiers and cowboys and indians, and toys based on more modern TV characters. The museum opens on weekend afternoons and by appointment to weekday school visits.
Further details at the

Ilkley Toy Museum website.

---
East Riddlesden Hall
East Riddlesden Hall Bradford Road, Riddlesden
The attractive 17th century home of a cloth merchant includes an array of needlework from the era. The house is set in colourful and peaceful gardens with an outdoor discovery garden and children's play area. The property, around 1.5 miles to the north-east of Keighley, has a car park, accessed through its narrow entrance. The property is managed by The National Trust.
Find out more at the

National Trust - East Riddlesden Hall web pages.
Locate on map:

East Riddlesden Hall
---
Yorkshire Dales National Park
The Yorkshire Dales National Park starts just north of Addingham. The National Park offers mountain peaks, beautiful river valleys, attractive villages with country inns, ruined abbeys and some of the finest limestone scenery in the UK with limestone pavements, dry valleys, potholes and underground caves. The area offers excellent hiking and walking territory with paths and trails for people of all abilities. It is a centre for potholing and caving, has mountain bike routes and offers plenty of opportunity to study its rich wildlife. For more information see our page dedicated to the Yorkshire Dales.

---
Nidderdale Area of Outstanding Natural Beauty
Extending across an area of 232 square miles (600 sq km), the Nidderdale Area of Outstanding Beauty starts at the edge of Ilkley and

Burley in Wharfedale. At its centre is the small town of Pateley Bridge. The area has a beautiful and varied landscape including rolling heather-topped moorland, stone-walled agricultural fields and farms, small villages, lake-like reservoirs and some outstanding geological features, the best known of which are Brimham Rocks. The area has a number of protected wildlife sites and provides important habitats for several varieties of birds, reptiles and animals, including otters and water vole. The area has been shaped both by nature and by human activity. The latter ranges from Iron Age settlements, old mines, quarry sites, a scattering of textile mills, traditional field barns, some historic parks and gardens and the area's huge reservoirs. For more information see our page on Nidderdale.

---
Emergency services
West Yorkshire Police

West Yorkshire Police website.

West Yorkshire Fire and Rescue Service

West Yorkshire Fire and Rescue Service website.

Yorkshire Ambulance Service NHS Trust

Yorkshire Ambulance Service NHS Trust website.


Local government
---
Metropolitan district council
City of Bradford

The City of Bradford authority covers an area extending many miles beyond the city itself, including areas of moorland of The Pennines and Ilkley Moor, parts of Wharfedale and Airedale and the Worth Valley.

The area includes many separate small towns and villages, among them Addingham, Baildon, Bingley, Burley in Wharfedale, Haworth, Idle, Ilkley, Keighley, Saltaire, Shipley and Silsden.

Councillors are elected across 30 wards with three councillors per ward.

One councillor per ward is elected for a four-year term on each of three years out of four. An election of one-third of the council due to be held in 2020 has been postponed to 2021.





Political composition after the May 2021 election:
90 members ( 1 = Ilkley Independent | 1 = Independent Socialist )
---
County strategic authority
West Yorkshire Combined Authority
Covers some combined services of the five metropolitan district councils of West Yorkshire -

Bradford,

Calderdale,

Leeds,

Kirklees and

Wakefield - which were at one time provided by a West Yorkshire metropolitan county council, with the addition of the non-contiguous unitary authority area of the City of

York council as well as the unelected Leeds City Region Enterprise Partnership.

Operates with elected mayor Tracy Brabin as chairman and as decision-maker for some responsibilities after May 2021 election.

West Yorkshire Combined Authority website.

---
Police and Crime Commissioner
The Police and Crime Commissioner for West Yorkshire
This role has become one of the many responsibilities of the West Yorkshire elected mayor since May 2021.



West Yorkshire Combined Authority website.

---
Fire Authority
West Yorkshire Fire Authority
The fire authority is made up of elected members of each of the five metropolitan district councils of West Yorkshire - Bradford, Calderdale, Leeds, Kirklees and Wakefield.


West Yorkshire Fire Authority web pages.

---
Ceremonial county
West Yorkshire

---
Historic
-1974 Within the West Riding of Yorkshire.

---
Also in Yorkshire.guide
New
Places to visit
Gazetteer
---