Ossett
West Yorkshire
Ossett is a market town in the Wakefield metropolitan district of West Yorkshire.

The town is 3½ miles west of Wakefield and about two miles east-south-east of Dewsbury.

The town has an extensive residential area and a market place at its centre where markets are held on Tuesday and Friday near to its selection of local shops and places of refreshment.

At the end of the Market Place is the impressive Ossett Town Hall.

The Grade II listed building was opened in 1908 on the site of the Ossett Grammar School. It was the offices of Ossett Borough Council, a local authority which disappeared with several others when merged in 1974 with the city of Wakefield into the Wakefield metropolitan district. It also housed a magistrates court and served as a concert hall and dance hall for the town.

Market Place, OssettAnother landmark building in Ossett is Holy Trinity Church which has a tall spire that can be spotted from neighbouring towns for miles around. The church was built to the north of the town to serve an expanding population between 1862 and 1865. Its architect was William Henry Crossland, a Huddersfield-born man who studied as a pupil of prolific church architect Sir George Gilbert Scott.

Ossett is well-connected to the road network, being close to junction 40 of the M1 motorway, while its by-pass, the A638, at the edge of town provides links to Dewsbury and Wakefield.


Town features
---

Ossett has a number of pubs to choose from.
---


The town has a range of shops and supermarkets.
---

Ossett holds a traditional outdoor market - (Tuesday and Friday)
---

The town has a Post Office.
---

The town has pharmacies.
---

Ossett has bank and building society branches.
---


Restaurant dining and cafes can be found in Ossett.
---

A wide range of takeaway food outlets can be found in Ossett.
---

Places to stay in Ossett include hotel accommodation.
---

The town has a library.
---

Ossett has a town hall.
---

Ossett has schools.
---

Places of worship: Anglican, Catholic, Methodist, United Reformed, other.
---
Travel
Bus travel
The town has buses to neighbouring towns and villages.
Road travel
Ossett can be reached via the

A638

B6128

B6129
---
Places to Visit
---
Sandal Castle
Sandal Castle
Manygates Lane, Sandal Magna, near Wakefield, West Yorkshire
About two miles south of the city centre, the ruins of the medieval motte and bailey castle are freely open to the public and overlook the River Calder and the city. Some walkways at the castle, including steps to the keep, have recently been undergoing renovation and repairs following a £700,000 investment by Wakefield Council. The castle stood just above the site of the War of the Roses Battle of Wakefield in December 1460. Its damage, however, was ordered by Parliamentarians after the surrender of a Royalist garrison there in October 1645 during the English Civil Wars.



---
The Hepworth, Wakefield
The Hepworth, Wakefield
Gallery Walk, Wakefield
A modern building next to the River Calder in Wakefield provides purpose-built gallery space for a collection donated by the family of Wakefield-born artist and sculptor Dame Barbara Hepworth, who died in 1975, together with visiting contemporary art exhibitions.

Find out more at The Hepworth website.
---
National Coal Mining Museum for England
National Coal Mining Museum for EnglandNational Coal Mining MuseumWakefield Road, Overton
The National Coal Mining Museum for England is mid-way between Wakefield and Huddersfield, about 6 miles from each, on the main A642 road at Overton. It is also around 10 miles from Barnsley and just under 5 miles from Dewsbury. The former Caphouse Colliery has exhibits showing the history of mining in the Yorkshire coalfield and beyond. The museum also offers the chance to don a miner's helmet to take an underground tour down the mine. The tour takes about an hour and shows the changes in mining and conditions in the pit through its history. There's also chance to meet pit ponies, to take a trip on a colliery railway, to walk its nature trail or relax with food or a drink in its cafe.
More details at the

National Coal Mining Museum website.


---
Yorkshire Sculpture Park
West Bretton
The Yorkshire Sculpture Park is the UK's leading open-air sculpture gallery, situated at West Bretton, between Barnsley, Huddersfield and Wakefield. Set in around 500 acres of beautiful parkland within the Bretton Estate adjoining Bretton Hall, the Yorkshire Sculpture Park offers what is probably the finest outdoor exhibition space in the country for modern and contemporary sculpture, attracting regional, national and international exhibits. The museum also has indoor exhibition spaces, cafes and shops. The museum car parks are accessed off the A637 Huddersfield Road between West Bretton and junction 38 of the M1. From 2020, the Yorkshire Sculpture Pak has introduced an admission charge with advance booking required. Parking is included in the admission fee.



---
Nostell
Nostell
Doncaster Road, Nostell
The site of a medieval priory, Nostell features a mid-18th century Palladian-style house which has been described as an architectural masterpiece. It includes interiors added by Robert Adam and furniture by Yorkshire-born furniture designer Thomas Chippendale. The house, 6 miles south-east of Wakefield and 5 miles south-west of Pontefract, is set in more than 120 hectares of parkland, including lakeside walks. Feature gardens include a kitchen garden with many varieties of rhubarb and vegetables typical of those grown in the 18th and 19th centuries and also the Menagerie Garden, created in 1743 and once the home of several exotic species. Nostell is managed by the National Trust.


---
Pontefract Castle
Pontefract Castle
Castle Garth, Pontefract
Once the most impressive castle in Yorkshire, Pontefract Castle has been a ruin for around 380 years. It is believed to be the place where King Richard II died in 1400, the king having been imprisoned there in 1399. The castle was referred to (as Pomfret) in William Shakespeare's play Richard III as the place where Richard II was 'hack'd to death', although many historians put starvation as the likely cause. Mystery still surrounds the death as there were also stories of Richard's escape to Stirling in Scotland. The castle was visited in August 1541 by King Henry VIII with his queen of the past year, Catherine Howard, and also Thomas Culpeper. Culpeper was at the end of that year beheaded in London for his alleged adultery with the queen, who was herself executed a few weeks later. Pontefract Castle was a royalist stronghold in the English Civil War and was beseiged several times by Parliamentarian forces before its remains were destroyed in 1649. Low and excavated sections of the castle's once formidable walls and towers and parts of the cellars of the castle are all that remain today.



---
Fairburn Ings
Near Fairburn
Situated 2 miles north-east of Castleford (3.5 miles by road), the Royal Society for the Protection of Birds reserve at Fairburn Ings offers hides, trails and a visitor centre. It has a variety of birdlife habitats, including lakes, woodland and wet grassland with resident and migrating birds depending on the season. The visitor centre is open each day except Christmas Day. The reserve holds events and discovery days through the year and there are also opportunities for pond-dipping.

---
Emergency services
West Yorkshire Police

West Yorkshire Police website.

West Yorkshire Fire and Rescue Service

West Yorkshire Fire and Rescue Service website.

Yorkshire Ambulance Service NHS Trust

Yorkshire Ambulance Service NHS Trust website.


Local government
---
Metropolitan district council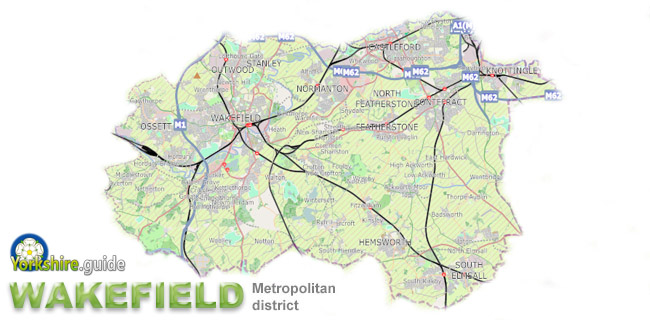 Wakefield Council
Wakefield Council covers an area extending many miles beyond the city of Wakefield itself. The area includes many separate small towns and villages, among them Castleford, Featherstone, Hemsworth, Horbury, Knottingley, Normanton , Ossett, Pontefract, South Elmsall and Stanley.

The council is made up of 63 councillors elected 3 per ward across 21 wards. Elections held in 3 in every 4 years elect one councillor per ward for 4-year terms.



Political composition after the May 2022 election:
63 members
---
County strategic authority
West Yorkshire Combined Authority
Covers some combined services of the five metropolitan district councils of West Yorkshire -

Bradford,

Calderdale,

Leeds,

Kirklees and

Wakefield - which were at one time provided by a West Yorkshire metropolitan county council, with the addition of the non-contiguous unitary authority area of the City of

York council as well as the unelected Leeds City Region Enterprise Partnership.

Operates with elected mayor Tracy Brabin as chairman and as decision-maker for some responsibilities after May 2021 election.

West Yorkshire Combined Authority website.


---
Police and Crime Commissioner
The Police and Crime Commissioner for West Yorkshire
This role has become one of the many responsibilities of the West Yorkshire elected mayor since May 2021.



West Yorkshire Combined Authority website.


---
National government region
Yorkshire and the Humber

---
Fire Authority
West Yorkshire Fire Authority
The fire authority is made up of elected members of each of the five metropolitan district councils of West Yorkshire - Bradford, Calderdale, Leeds, Kirklees and Wakefield.


West Yorkshire Fire Authority web pages.


---
Ceremonial county
West Yorkshire

---
Historic
-1974 Within the West Riding of Yorkshire

---
Also in Yorkshire.guide
New
Places to visit
Gazetteer
---