Rotherham
South Yorkshire
Rotherham is a large town and the administrative centre of a wider metropolitan district within South Yorkshire.

Rotherham is 7 miles north-east of Sheffield, 10 miles south-east of Barnsley and 12 miles south-west of Doncaster.

The historic town has been looking at something of a revival in recent years after facing probably more than it bargained for in terms of the challenges it faces, but it is clearly a survivor against the odds and potentially looking towards a brighter and smarter future.

Rotherham has had to face the demise of the South Yorkshire coal industry and the major decline in the steel industry, although that has possibly helped to the turn the town into a much cleaner and brighter place with great potential for new businesses to develop.

It's never easy for any large town with a city centred only 7 miles away, but in 1990 matters worsened for Rotherham town centre trade when the huge regional Meadowhall Shopping Centre opened within Sheffield city limits, but closer to the centre of Rotherham than Sheffield. There were further problems in 2007, when part of Rotherham town centre had to overcome flooding.

More recently a shadow has hung over the town after revelations about an unprecented scale of child sexual exploitation cases involving at least 1,400 children over a 16-year period up to 2013 and the then inadequacies in official activity to detect the problems.

As for the town itself, Rotherham's centre is probably looking smarter now than at any time in its recent history with tree-lined pedestrian streets around its medieval Minster, cleaned up historic buildings, new street sculptures, fountains and places to relax.

Chantry Bridge, Bridge Street, RotherhamThe town has many historic buildings, including the Minster, about which there is more below, and its Chapel on the Bridge. The chapel is one of only three surviving places of worship built upon bridges in England, another being at Wakefield in West Yorkshire. The chapel was built as part of a new bridge across the River Don around 1483. Dissolution saw the end of its life as a chapel in 1547, but it lived on as part of the bridge, given new uses over the years as an almshouse, jail, house and tobacconist's shop, before being restored to a chapel in 1924.

There were settlements in the Rotherham area in the iron age and in Roman times there was a fort at Templeborough, about a mile outside the town. Remains are preserved at Clifton Park Museum, but the site was lost to a steelworks expansion during the First World War. At the time of the Domesday Book, in 1086, Rotherham and its many surrounding settlements would have had a greater combined population than the neighbouring Sheffield district. Rotherham itself was not then the largest of the settlements, but did have a church, the priest being recorded in the Domesday Book.

With its resources of coal and iron nearby, Rotherham was well-placed for its now-diminished iron and steel industries. However the town and surrounding areas also has a history of producing a very diverse range of products. Its industries over the years have included pottery, glass, brass, watches and clocks, chemicals and quarrying and the flour milling after which the Rotherham United football club gets its knickname The Millers. Today industry in the area is more diverse than ever with companies finding the town's proximity to the M1 and M18 motorways an important feature.

On the subject of transport, Rotherham was initially ahead of the game as the first town in the country with a trolleybus system. It opened in 1912, a year after the cities of Bradford and Leeds. Trolleybuses gradually replaced the town's tramway system, which operated between 1903 and 1949. The last trolleybuses ran in 1965. Two of the later trolley buses, modified to double deckers for their latter years, are preserved at the Trolleybus Museum at Sandtoft, Lincolnshire, about 28 miles north-east of Rotherham.

Town features


As with any town centre just 7 miles from a neighbouring city centre, there has clearly been a struggle to keep a prosperous-looking town centre, and Rotherham town centre has had a bigger fight than most ever since neighbouring Sheffield saw the opening in 1990 of the massive Meadowhall shopping centre nearer to Rotherham than its own city centre. Rotherham has, however, also seen the development of its own out-of-town shopping centre, The Parkgate Shopping Centre, at Stadium Way, off Rotherham Road, about 1 mile to the north-north-east of the town centre, satisfying major retailers wanting car-park-fronted big box units.
Rotherham town centre in the meantime has become a more relaxed outdoor shopping experience for those with traditional Yorkshire market town values. Arranged around its historic Minster, it appeals to those trying to escape city hustle and bustle and wishing to seek out its individual traders, specialist, home furnishing and bargain shops or to combine shopping with a visit to its restaurants and pubs. The town looks as if it might be heading for further revival if it can draw back smarter shops or designer outlets into remaining vacant units to help the much smarter look of this once grimy town.

---

The Centenary Indoor Market, open 6 days a week, continues an 800-year market tradition in the town. The Centenary Outdoor Covered Market provides a general market on Mondays, Fridays and Saturdays, a second-hand market on Tuesdays and antiques and bric-a-brac on Wednesdays. An outdoor market is held in Effingham Street on Tuesdays.

---

Rotherham's main post office is in Bridgegate. There are also post office counters in some districts of Rotherham.
---

The town has bank and building society branches.

---

There are several pharmacies in Rotherham and its districts.

---

With more than two dozen pubs and bars around the town centre alone there is a great choice whether you are looking for a cosy place to relax or busy nightlife.

---


Rotherham has many cafes and a selection of restaurants. Rotherham rose to fame when it featured in the Jamie's Ministry of Food TV series in 2008.

---

The River Rother flows into the River Don at Rotherham.

---

The Sheffield and South Yorkshire Navigation is linked to the River Don in Rotherham.

---

Clifton Park is about half a mile east of Rotherham town centre.

---

The Rotherham central library is at Riverside House, Main Street. There are also a several district library branches in the area.

---


For theatre and museum details see below.

---


Rotherham Leisure Complex is in Effingham Street.

---

There are several schools and colleges in and around Rotherham.

---

Places of worship: Anglican, Catholic, Methodist, Baptist, United Reformed, Islamic, other.

---
Minster Church of All Saints, Rotherham

The grade I-listed Minster Church of All Saints stands proudly in the centre of the town and is considered one of the finest examples of medieval perpendicular architecture in the country. Although there is evidence of earlier Saxon and Norman churches on the site dating back to 937, the present tower and spire was started in 1409 and the church was considered complete when the clergy vestry was added in 1540. A restoration in the 1870s was carried out under the direction of Sir Gilbert Scott and there was restoraton of the nave roof in the 1990s. The church was granted Minster status in 2004. An exhibition inside the church details the history of the building.
For more details see the

Rotherham Minster website.

---
Entertainment
Rotherham Civic Theatre
Catherine Street
A former church building was converted into a civic theatre in 1960. It has since had some modernisation including new seating and provides a stage for local amateur theatre groups as well as touring professionals and some famous faces. An annual pantomime is a theatre favourite.
More information at

Rotherham Theatres website.

---
Sport
New York Stadium, Rotherham

Rotherham United FC
The Millers play at New York Stadium


Rotherham United official website.



Rotherham Titans
Rotherham Titans play rugby union at Clifton Lane


Rotherham Titans official website.



Rotherham Town Cricket Club Rotherham Town play cricket at Clifton Lane

---
Higher Education
Rotherham College
Eastwood Lane
Rotherham College offers a range of degrees and professional courses through university and outreach partners. The college is based in Rotherham and also has a campus for specialised subjects in

Dinnington, a small town 8 miles south east of Rotherham.
More information at the

Rotherham College website.

---
Museums
Clifton Park Museum
Clifton Lane, Rotherham
The museum is based in the 18th century Clifton House in the award-winning Clifton Park, about half a mile from Rotherham town centre. It aims to appeal to all ages in its revelations of Rotherham's history. Among highlights are a vast collection of the Rockingham pottery which was made at a factory at Swinton near Rotherham, together with exhibits from other Yorkshire potteries. Glass, brass cast iron and steel, clock and watch exhibits also show the work of other local industries. The museum also has a large archaeological collection, ranging from prehistoric finds, through thousands of finds from the Templeborough Roman Fort to Viking, Saxon and medieval items. The museum also has a natural history collection and its fine arts include local scenes.
Find out more at the

Clifton Park and Museum website.

---
The York and Lancaster Regimental Museum
Clifton Park Museum, Clifton Lane, Rotherham
Uniforms, weapons and equipment from the regiment and the earlier 65th and 84th Regiments on Foot can be found in this museum within the Clifton Park Museum.
For more see the Regimental Museum web page at the

Clifton Park and Museum website.

---
Places to visit
Magna Science Adventure Centre
Sheffield Road, Templeborough, Rotherham
Set in Rotherham's old Templeborough steelworks, Magna offers an insight into the world of steelmaking and much more. It offers a fascinating exploration into the world of science and technology through areas of air, earth, fire and water. Among the highlights are a fire tornado and the chance to operate a JCB. Magna is about 2 miles to the south-west of Rotherham town centre and is on the 69 Rotherham to Sheffield bus route.
More information at

Magna website.


---
Roche Abbey
Near

Maltby
Situated near Maltby, 8 miles east-south-east of Rotherham town centre (9.5 miles by road), are the remains of Roche Abbey, a Cistercian order monastery dating from the 1170s. The abbey's excavated foundations show one of of the most complete ground plans of any monastery remains in the country. Despite the dismantling after the supression of the monastery in 1538, much of its early Gothic transepts survive as does a section of the gatehouse built around 1300. There are also bridges crossing the attractive stream through the site. The area around the monastery was landscaped by Lancelot 'Capability' Brown in the 1770s and a Banqueting Lodge created from stonework from the ruined abbey at around that time. The abbey can be reached by car or via the public footpath adjoining the site. Roche Abbey is managed by English Heritage.

More information at the

English Heritage - Roche Abbey website.
Locate on map:

Roche Abbey
---
Tropical Butterfly House, Wildlife and Falconry Centre
Woodsetts Road, North Anston
In addition to its butterfly house, the centre offers all kinds of animal encounters, from reptiles, insects and birds to meerkats, lemurs, otters and farm animals. The centre is at North Anston, about 10 miles to the south-east of Rotherham.

---
Wentworth Woodhouse
Wentworth WoodhouseWentworth
Situated about 4 miles north-east of Rotherham, Wentworth Woodhouse is possibly the grandest country palace in England. In effect it is two back-to-back palaces. Its brick West Front was built in the 1720s. Soon after this, its stone East Front was built, stretching for an impressive 185 metres. Until recently the largest house to be privately-owned, in 2017 it was acquired by the Wentworth Woodhouse Preservation Trust for £7m, with half of that coming from the National Heritage Memorial Fund. The house was given its huge Palladian frontage between the 1730s and 1740s by Thomas Watson-Wentworth, Baron Malton, who was Lord Lieutenant of the West Riding of West Yorkshire from 1733 to 1750. Brought up there was his son, Charles Watson-Wentworth, who in later life, as The Marquess of Rockingham, served two short terms as Prime Minister of Great Britain. The house and gardens open daily, except Mondays, with admission available to its main rooms and gardens and also themed guided tours available to provide a wealth of information about the various parts of the 365-room house and its conservation. Afternoon tea is served in its Long Gallery and there is also a gift shop. Various events are staged at the historic house through the year. Wentworth Woodhouse has been a location for a variety of films and TV productions, recently having featured prominently in the second series of acclaimed ITV historical drama "Victoria" and also in the award-winning fact-based fictional drama film about Winston Churchill, "Darkest Hour". There are some attractive public footpaths through the estate, including some which lead past the large and eleborate follies which boasted its extent.
For more information see the

Wentworth Woodhouse website.
Locate on map:

Wentworth Woodhouse
---
Conisbrough Castle
Conisbrough Castle
Conisbrough, South Yorkshire
The castle is situated in the small town of Conisbrough, about five miles south-west of Doncaster and seven miles north-east of Rotherham. Its tall circular cylindrical keep has had its walls and roofs restored to create a feeling of how the castle would have been in the late 12th century when it was built. In 1201, the castle had a royal visit, when King John stayed there. The castle became famous through fiction as the inspiration for Sir Walter Scott's 'Ivanhoe'. The historic site is managed by English Heritage.

Find out more at the

English Heritage - Conisbrough Castle web pages.
Find on map:

Conisbrough Castle
---
Gulliver's Valley
Mansfield Road (A618), Wales, South Yorkshire
A recently-developed theme park near to the Rother Valley Country Park offering family rides and play areas in a variety of themed zones together with accommodation. The park offers more than two dozen rides, mostly aimed at younger children.
Locate on map:

Gulliver's Valley
---
Travel
Rotherham Central
Central Road
Rotherham Central has regular local train services which link the town to Sheffield via Meadowhall in 13 to 17 minutes. In an easterly direction there are trains stopping at Swinton, Mexborough, Conisbrough and Doncaster continuing to Adwick or via stations to Goole and Hull, some continuing to Bridlington. A train also operates hourly (Mon-Sat daytime) in this direction on a journey of just over an hour to Leeds. There are two trains a day from and to York via Pontefract Baghill. Connections to other destinations are available changing at Meadowhall Interchange.

On top of the existing fast and frequent train connectivity to Meadowhall Interchange and Sheffield, the recently introduced tram-train service offers a slower route, avoiding the Interchange but calling at Meadowhall South and Sheffield Arena among several stops on a route to the Cathedral area of the Sheffield city centre. In an easterly direction the tram-trains run along the rail line to a station at Parkgate where they terminate. The station at Parkgate is for tram-trains with no platforms there for regular trains.

Station managed by: Northern.
Operator/s: Northern -



Northern - Rotherham Central Station and departure information at Northern website.

---
Meadowhall Interchange
Meadowhall Road (3 miles from Rotherham town centre)
Rotherham previously had another station, Rotherham Masbrough, which closed in 1988. The line is still used by regional express services, but the nearest station is now Meadowhall Interchange, next to Meadowhall shopping centre. The station is a stop along the line into Sheffield from Rotherham Central. Meadowhall Interchange is the changing point for trains including those to Barnsley and Huddersfield and rail passengers can also hop off the train on to stopping trams for the route into Sheffield city centre.
Station managed by: Northern.
Operators: Transpennine Express - Northern - (Stagecoach Supertram also operate to Meadowhall Interchange) -



Northern - Meadowhall Interchange Station and departure information at Northern website.

---
Rotherham Interchange Frederick Street
A comprehensive bus network operates to surrounding towns and villages. Rotherham Interchange bus station is a 4-minute walk from Rotherham Central station and close to the town centre.
Further bus information at Travel South Yorkshire external website.

---
Road travel
Rotherham is just a few miles from the

M1

motorway providing convenient links south to the East Midlands and London, north to Leeds and North East England and via the

M18

north east towards East Yorkshire and Hull.
---
Doncaster Sheffield Airport (Robin Hood Airport) Finningley
Doncaster Sheffield Airport
Doncaster Sheffield Airport closed to passenger flights in November 2022 following a decision by its owners who had previously claimed it to be "The UK's number one airport". The airport has one of the biggest runways in the north of England and had in recent years been named Best Airport in the UK by consumer champion Which?. The airport is at Finningley, around six miles south-east of Doncaster and 20 miles from Sheffield.


---
Emergency services
South Yorkshire Police

South Yorkshire Police website.

South Yorkshire Fire and Rescue

South Yorkshire Fire and Rescue website.

Yorkshire Ambulance Service NHS Trust

Yorkshire Ambulance Service NHS Trust website.


Local government
Metropolitan district council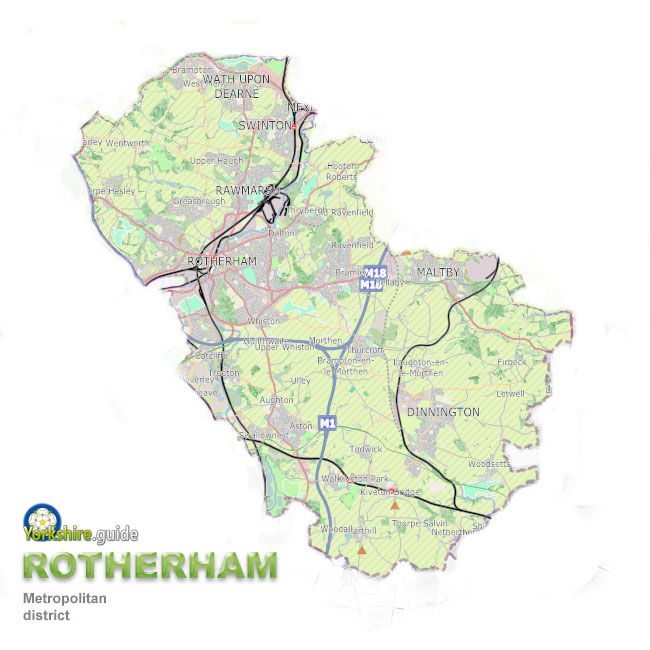 Rotherham Metropolitan Borough Council

The Rotherham Borough Council area extends for several miles beyond the town, covering many other towns and villages, particularly to the north of the town, along the River Don, and to the south-east of Rotherham, where the area extends for around 10 miles from the town. To the west, however, the neighbouring Sheffield City Council district encroaches to within a mile of Rotherham town centre in places.

The metropolitan borough is the only one in South Yorkshire to have borders with all of the other three South Yorkshire authorities, Sheffield, Barnsley and Doncaster and it also borders Derbyshire and Nottinghamshire.

Rotherham Council was from 2015 to September 2018 managed by government commissioners appointed after serious failings were found in the running of the previous authority, particularly in relation to children's services. Control has now returned to the 63 democratically-elected representatives.

Rotherham Town Hall is at The Crofts in the former West Riding Courthouse. The council offices are principally based at Riverside House opposite the town's police station, in Main Street.



Political composition of the council after the May 2021 election:
59 members
---
County strategic authority
South Yorkshire Mayoral Combined Authority
Covers combined services including public transport, housing, infrastructure and regeneration and adult education in South Yorkshire, including the metropolitan districts of

Barnsley,

Doncaster,

Rotherham and

Sheffield.

A mayor-led authority since 2018, the Mayor of South Yorkshire since the May 2022 election is Oliver Coppard.



South Yorkshire Mayoral Combined Authority website.


---
Police and Crime Commissioner
South Yorkshire Police and Crime Commissioner


South Yorkshire Police and Crime Commissioner website.


---
Fire Authority
South Yorkshire Fire and Rescue Authority
The fire authority is made up of elected members of each of the four metropolitan district councils of South Yorkshire - Barnsley, Doncaster, Rotherham and Sheffield.


South Yorkshire Fire and Rescue Authority web pages.


---
Ceremonial county
South Yorkshire

---
Historic
1500s - The Feoffees (trustees) of the Common Land of Rotherham acted as an early town council. Although established much earlier, they were officially recognised in Crown letters granting land in 1584 and a Royal Charter in 1589.
1902-1974 County Borough within the West Riding of Yorkshire

---
Also in Yorkshire.guide
Home
Travel
Map
---