Goole
East Riding of Yorkshire
Goole is a port town in the East Riding of Yorkshire.

The Port of Goole is Britain's most inland port but just two miles from the M62 motorway.

Situated on the River Ouse, not far from the Humber Estuary, the port is 50 miles from the North Sea.

Goole also became the place where the River Don was joined with the River Ouse in the 1620s. The river was diverted from joining the River Trent via a channel, the Dutch River, to drain the marshland of Hatfield Chase.

Around 200 years later the Aire and Calder Navigation was constructed, linking the Yorkshire coalfield and industrial towns of the West Riding with Goole. Here new docks were built where loads were transferred between canal boats and sea-going vessels. With the docks came a new town.

More about the significance of the waterways in the history of Goole could be found at The Yorkshire Waterways Museum in Goole, however the museum was closed in May 2019.

Landmarks in the town include its twin water towers, known as the salt and pepper pots, and the steeple of St John the Evangelist Church, the town's parish church.

Supplementing the docks, business parks featuring industrial and warehouse units have been developed around the town in recent years.

Town features
---

The town is on the River Ouse, River Don (Dutch River).
---

Goole is on the Aire and Calder Navigation.
---


The town has a range of shops and supermarkets. Goole offers bakery goods, butchers, clothes, furnishings, an indoor market.
---

The town has a Post Office.
---

Goole has banks.
---

The town has pharmacies.
---

Goole has several pubs.
---

Restaurant dining and cafes can be found in Goole.
---

Takeaway food outlets in the town include fish and chips, chinese, curries, pizzas, burgers, kebabs, sandwiches.
---

The town has a cinema.
---

Goole has a theatre.
---

The town has a swimming pool.
---

There are public toilets in the town with limited hours of use(Estcourt Street - 7am-6pm daily)
---

Places of worship: Anglican, Catholic, Methodist, United Reformed, other.
---

Goole was formerly in the West Riding of Yorkshire.

---
Travel
Goole station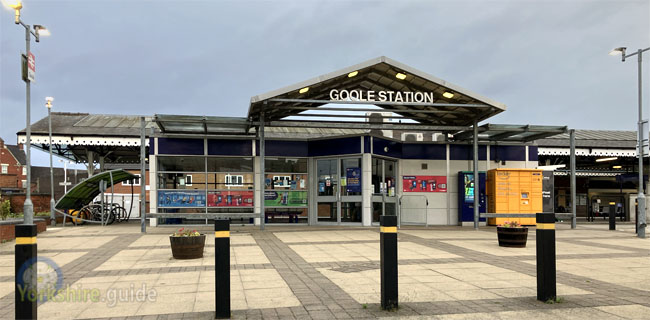 Managed by: Northern
Operator/s: Northern -



Northern - Goole Station and departure information at Northern website.


Bus travel
The town has buses to neighbouring towns and villages.
Road travel
Goole can be reached via the

A161

A614

(M62)
---
---