Conisbrough
South Yorkshire
Conisbrough is a town in the Doncaster metropolitan district of South Yorkshire.

Conisbrough Community Library Church Street, Conisbrough Church Street, Conisbrough Conisbrough is 6 miles south-west of Doncaster, 7 miles north-east of Rotherham and 12 miles south-east of Barnsley.

The Church of St Peter is the town's Grade I listed parish church which is said to be the oldest building in South Yorkshire with origins dating back to the mid-8th century. Some features pre-dating Norman times are still evident, although there has been much remodelling of the church in the 12th, 14th and 15th centuries, restoration in the 19th century and the addition of a 20th century vestry.

The name Conisbrough means the King's borough and it is likely to have once been a place of significant importance in much of the area now known as South Yorkshire as the centre of an extensive royal estate. The Domesday Book of 1086 records the Lord of the Manor up to 1066 to be Earl Harold. That was the year of his near-eight-month reign as King Harold II which ended in his death at the Battle of Hastings after his dash from Yorkshire to Sussex.

While Conisbrough was an important centre before Norman times, its castle started to be developed soon after the conquest, when the estate was part of extensive lands handed to William de Warrenne, who had fought alongside conqueror William I at the Battle of Hastings.

The castle's unusual cylindrical stone keep was added in the 12th century and received a royal visit from King John in 1201. The castle gained fame, however, through fiction as the inspiration for the novel 'Ivanhoe', written in 1819 by Walter Scott (later Sir Walter Scott). For more about the castle see below.

Conisbrough's more recent history is as part of the coal mining area of South Yorkshire. A sculpture near to the town's library pays tribute to the men and boys who lost their lives at the collieries in the neighbouring villages of Denaby Main and Cadeby and the women who suffered their loss. One particularly large loss was suffered at the Cadeby Main pit on July 9, 1912, when underground explosions claimed the lives of 91 miners, 53 of them being part of a rescue party after the first blast.

Mining came to an end at the pit in the late 1980s. A bid to revitalise the site between Conisbrough and Cadeby in 1999 as an environmental education centre, called The Earth Centre, came to an end just five years later after it failed to attract sufficient visitors despite many millions of pounds injected into the scheme.


Town features
---

The town is near to the River Don.
---

Conisbrough has a castle.
---

Conisbrough has an old parish church.
---

Conisbrough has a choice of pubs.
---

The town has shops.
---

The town has Post Offices.
---

The town has pharmacies.
---

Conisbrough has a building society agency.
---

A choice of cafes can be found in Conisbrough.
---

Takeaway food outlets in the town include fish and chips, chinese, curries, sandwiches.
---

The town has a library.
---

Conisbrough has a community hall.
---

Conisbrough has schools.
---

Places of worship: Anglican, Baptist.
---
Travel
Conisbrough station
Managed by: Northern
Operator/s: Northern -



Northern - Conisbrough Station and departure information at Northern website.


Bus travel
The town has buses to neighbouring towns and villages.
Road travel
Conisbrough can be reached via the

A630

A6023

B6094
---
Places to visit
Cusworth Hall
Cusworth Lane, Doncaster
Situated two miles north of Doncaster, off the A638 Doncaster to Wakefield Road, this grade I listed building, built in the early 1740s, can be explored together with its impressive parkland with lakes. Features of the house and gardens have been restored to various periods of its life and include ceiling paintings in an Italianate chapel, an Edwardian rose garden and 'below-stairs' features such as its great kitchen, bake house and laundry. The Hall is managed by Doncaster Metropolitan Borough Council with the support of The Friends of Cusworth Park.
More information at these

Doncaster Council - Cusworth Hall web pages.

---
South Yorkshire Aircraft Museum
Dakota Way, Airbourne Road
The museum has a collection of aircraft from the first air show to be held in Britain, held at Doncaster Racecourse in 1909, together with more modern preserved light aircraft and jets. It is located about a mile to the south east of the town centre. For opening times see the museum's website.
Details at

South Yorkshire Aircraft Museum website.

---
Conisbrough Castle
Conisbrough Castle
Conisbrough, South Yorkshire
The castle is situated in the small town of Conisbrough, about five miles south-west of Doncaster. Its tall circular cylindrical keep has had its walls and roofs restored to create a feeling of how the castle would have been in the late 12th century when it was built. In 1201, the castle had a royal visit, when King John stayed there. The castle became famous through fiction as the inspiration for Sir Walter Scott's 'Ivanhoe'. The historic site is managed by English Heritage.

Find out more at the

English Heritage - Conisbrough Castle web pages.
Find on map:

Conisbrough Castle
---
Brodsworth Hall and Gardens
Brodsworth
The Victorian country house at Brodsworth, about 5 miles north-west of Doncaster, was built in 1860, surrounded by beautiful gardens. It remained largely unchanged through its lifetime and is now being conserved by English Heritage. Yorkshire bands perform at the hall most Sundays during the summer. A car park for the hall can be accessed from Church Lane, between the villages of Marr and Brodsworth.
More information at the

English Heritage - Brodsworth Hall website.

---
Yorkshire Wildlife Park
Warning Tongue Lane, Branton, Doncaster
The Yorkshire Wildlife Park, about 4 miles south-east of Doncaster, was created at a former farm and riding school in 2009. It now houses some 400 animals of 70 different species, including polar bears, lions, tigers and leopards and a whole range of other animals native to Africa, South America and other parts of the world.
Find

Yorkshire Wildlife Park on map.

---
The Trolleybus Museum at Sandtoft
Belton Road, Sandtoft, North Lincolnshire
Although just outside the Yorkshire border at the former RAF Sandtoft airfield in North Lincolnshire, the museum is only a 12-mile drive from Doncaster. It lays claim to having the world's largest collection of preserved trolleybuses and includes many examples of trolleybuses used in Yorkshire, including those from the fleets of Bradford, Huddersfield, Rotherham, and Doncaster, which have been beautifully restored by volunteers. The museum, which celebrated its 50th anniversary in 2019, has a calendar of themed open days on weekends and bank holidays between April and November. The museum also organises trolleybus driver experience days. Details are on the museum's website.
More information at

The Trolleybus Museum at Sandtoft website.

---
Emergency services
South Yorkshire Police

South Yorkshire Police website.

South Yorkshire Fire and Rescue

South Yorkshire Fire and Rescue website.

Yorkshire Ambulance Service NHS Trust

Yorkshire Ambulance Service NHS Trust website.


Local government
---
Metropolitan district council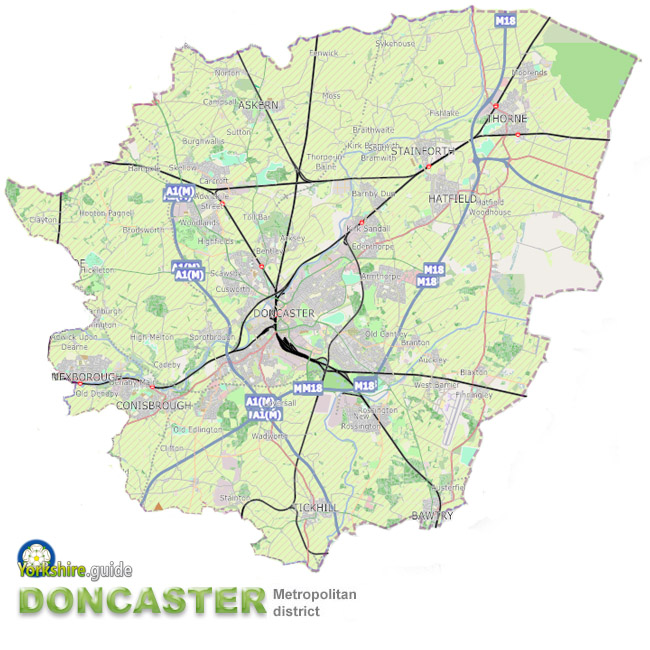 Doncaster Council

Doncaster is one of four metropolitan district authorities within the county of South Yorkshire.

It covers Doncaster and many other towns and villages within a radius of between 7 to 10 miles from centrally-placed Doncaster.

Unusually within Yorkshire, the district council is run by an executive-powered elected mayor, who is supported by a cabinet. The mayor chooses the cabinet from elected councillors.

The elected mayor system means that Doncaster Council has two elections to organise, one for the elected mayor and one for councillors. The mayor and all councillors are selected in elections every four years, the most recent election being in 2021.

The election of 55 councillors is done across 21 wards with two or three councillors elected in each ward. Eight councillors currently serve under the chairmanship of the mayor on the cabinet.


Doncaster is the responsibility of a elected mayor (2021 result):
Elected mayor - Ros Jones

The political composition of the councillors after the May 2021 election is:
Labour 40, Conservative 11, Independent 4
- 55 members

---
County strategic authority
Barnsley, Doncaster, Rotherham and Sheffield Combined Authority
Covers South Yorkshire. A mayoral election for this authority was held in May 2018.


Barnsley, Doncaster, Rotherham and Sheffield Combined Authority website.
---
Police and Crime Commissioner
South Yorkshire Police and Crime Commissioner


South Yorkshire Police and Crime Commissioner website.

---
Fire Authority
South Yorkshire Fire and Rescue Authority
The fire authority is made up of elected members of each of the four metropolitan district councils of South Yorkshire - Barnsley, Doncaster, Rotherham and Sheffield.


South Yorkshire Fire and Rescue Authority web pages.

---
National government region
Yorkshire and the Humber

---
Ceremonial county
South Yorkshire

---
Historic
-1984 In the West Riding of Yorkshire.

---
Also in Yorkshire.guide
New
Places to visit
Gazetteer
---