Scarborough
North Yorkshire

Scarborough Castle and North Bay Dunkirk veteran Regal Lady, Scarborough South Bay, Scarborough Often rated as the best traditional seaside resort in the UK, Scarborough seems to offer all the favourites of the British family seaside holiday.

It has sandy beaches in two bays and a promenade around the headland between them on which stands its castle. There are parks with boating lakes, miniature train rides, a sea life centre, open top buses, an open air theatre and indoor entertainment at its Spa. Its South Bay also contains a picturesque fishing harbour from where there are boat trips around the bay and beyond. Scarborough's lifeboat is based nearby and there's a lighthouse at the end of the harbour.

Scarborough Harbour Big wheel at site of Futurist Theatre, South Bay The Spa and South Bay beach, Scarborough Along the South Bay are souvenir shops, ice creams and places to eat, with fish and chips the obvious speciality here. There's a small fairground and amusement arcades, but without the brashness to be found in some resorts outside Yorkshire. Just a short walk or cliff lift tram ride away is Scarborough's town centre with more shops and a shopping centre to choose from and the area converts to a lively scene of traditional pubs in the evening.

Scarborough seems to offer everything expected of the traditional British seaside in one town, but, if that's not enough, there are other Yorkshire resorts to visit a few miles away, including Whitby, Filey, Bridlington and the picturesque village of Robin Hood's Bay. The North York Moors National Park starts just outside the town as does a 36-mile section of Heritage Coast, one of three sections of the Yorkshire coastline so defined by Natural England.

North Bay, Scarborough Scarborough is on the Cleveland Way long-distance trail, a 110-mile waymarked hiking path around the edges of the North York Moors and North Yorkshire coast with Helmsley and Filey at its end points.

People have been flocking to Scarborough for more than 400 years and the level of tourism was boosted in Victorian times with the coming of the railway to the town.

Today Scarborough is providing more modern facilities, including a recently-opened water park, while maintaining its traditional charm.

There's plenty to see here and the town has hundreds of hotels and small quality guest houses to choose from if planning a stay.

Town features
Scarborough Market Hall

Scarborough has shops ranging from the usual high street stores to arts and crafts studios, toy and gift shops and outlets for holiday clothing and souvenirs. Its shopping centre is the Brunswick Shopping Centre, off Westborough, which together with Newborough and Eastborough forms the main shopping thoroughfare, stretching for more than half a mile from the station to the harbour.

---

The town also has a traditional Market Hall with a wide range of goods in St Helen's Square.

---
---
Westborough and Brunswick Shopping Centre, Scarborough

There are several pharmacies in Scarborough.

---

There are several banks and building society branches in Scarborough.

---

From traditional Yorkshire pubs to more modern bars, the town has a good range of places for refreshment and entertainment.

---

While the town has cafes and restaurants catering in all cuisines, fish and chips on the seafront near Scarborough's fishing harbour remains a popular favourite.

---

Scarborough has a huge range of hotel and quality guest house choices and also offers self-catering accommodation and caravan and camping sites.

---

Scarborough's main library, run by North Yorkshire County Council, is in Vernon Road in the town centre.

---

Scarborough has several public toilets around the South Bay and harbour and at the North Bay, Peasholm Park and its nearby car park at Burniston Road. Some of the toilets open in the summer and some all year round. Some have a 40p fee. Some open at 7.30am and others at 10am. Almost all are closed at 6pm. You can check which offer the most convenient times before you go at this

Scarborough Borough Council - Public toilets web page.

---

Scarborough has places of worship including Anglican, Catholic, Methodist, Baptist, United Reformed, Islamic and others.

---
Church of St Mary, Scarborough

The Church of St Mary, above the harbour and just below the castle, is the parish church of Scarborough. The church traces its history back to 1150, but has had been extended and rebuilt over the years, particularly after it was severely damaged in the English Civil War siege of Scarborough Castle in 1645. In the churchyard is the grave of Anne Brontë, one of the poet and novelist Brontë sisters. She died in Scarborough in 1849.

---
Entertainment
Open Air Theatre, Scarborough
Scarborough Open Air Theatre
Northstead Manor Gardens
Europe's largest open air theatre hosts some of the biggest names in the music industry. Acts in 2019 included Cliff Richard, Madness, Lewis Capaldi, Kylie and more, but the theatre had to cancel its 2020 season because of the Covid-19 outbreak.

---
The Spa
South Bay
Scarborough Spa is a conference, exhibition and entertainment venue on the sea front at the southern end of Scarborough's South Bay. It hosts a wide variety of musical concerts and top entertainers from the field of comedy, sport, music, dance, children's entertainment and tribute acts, together with ballet, opera and the Scarborough Jazz Festival in September.

---
Stephen Joseph Theatre
Westborough
The theatre opened in its latest guise in 1996 in Scarborough's former Odeon Cinema. It has a theatre in the round seating more than 400 and a smaller forward facing-stage or cinema. It provides a venue for drama, comedy, musical entertainment and new work, including world premieres by award-winning playwright Alan Ayckbourn, who was the theatre's artistic director from 1972 to 2009. The theatre traces its history to British theatre pioneer Stephen Joseph forming the first modern professional theatre-in-the round company in Scarborough in 1955.

---
Sport
Scarborough Cricket Club
Scarborough Cricket Club
Scarborough Cricket Club is a host to Yorkshire County Cricket Club matches at North Marine Road.


Scarborough Cricket Club official website.

---
Higher Education
Coventry University Scarborough Campus
Ashburn Road, off Valley Road, Scarborough
A brand new campus of the West Midlands-based university opened in Scarborough in September 2016 with a range of full-time, part-time, foundation and access courses.


Coventry University Scarborough Campus website.

---
Museum
Rotunda Museum, Scarborough
Rotunda Museum
Vernon Road (near Spa Bridge)
As one of the UK's oldest purpose-built museums, the 1829 Rotunda Museum building is an exhibit in itself, but it is also full of fascinating objects. They include the bronze age skeleton of Gristhorpe Man, found near Scarborough, a geological showcase of the Jurassic coast and its lost dinosaurs and finds from an important Mesolithic site at Star Carr, just south of Scarborough.
More information at the

Scarborough Museums Trust Website.

---
Places to visit
Scarborough Castle
Scarborough Castle
Castle Road
In its clifftop location on the headland between North and South Bays, the ruined castle is the centrepiece of Scarborough. The castle includes ruins from a 4th century Roman signal station and medieval chapel, but its most dominant feature is the half-ruined keep. The tower was built by Henry II between 1159 and 1169 and was used as a grand residence. Half its 12-foot thick walls were damaged during an English Civil War siege in 1645. The castle also has a rebuilt barbican gate tower and bridge from 1243 and remains of a royal lodging dating from the early 13th century. King John and Henry III invested heavily in the castle. In more recent history Scarborough Castle was one of the targets of the World War I bombardment of the town of Scarborough by German battlecruisers on December 16, 1914. Scarborough Castle is now managed by English Heritage.


---
Scaborough Sea Life Sanctuary
Scaborough Sea Life Sanctuary
Scalby Mills
The Sea Life Sanctuary is located at the pyramid-roofed buildings at Scalby Mills at the north end of Scarborough's North Bay. Indoor and outdoor exhibits include Bonnethead and Blacktip Reef sharks, otters, penguins and Yorkshire's only seal hospital.

---
North Bay Railway, Scarborough
North Bay Railway
Northstead Manor Gardens to Scalby Mills
The historic seaside minature railway has operated since 1931. It runs for just under a mile beside the lake of Northstead Manor Gardens and along the North Bay to Scalby Mills, near to the Sea Life Sanctuary. Most journeys are operated by diesel-powered miniature images of historic mainline steam locomotives, but the railway recently acquired a real steam locomotive to operate steam special services.
More information at the

North Bay Railway website.

---
Peasholm Park, Scarborough
Peasholm Park
One of Britain's best-loved parks, Peasholm Park, a short walk from Scarborough's North Bay, has at its heart a lake encircling an island and an oriental theme inspired by a willow pattern plate. The lake offers a circuit for traditional rowing boats and canoes, dragon pedal boats and a swan launch. There are also free concerts from a bandstand in the lake. A bridge provides a path to the island where there is a pagoda at the top of the hill, enhancing the park's theme. A quiet and peaceful natural glen leads away from the lake area to ponds, one to launch model boats, and shady trees with their population of squirrels. The park is supported by a friends group.
Further details at the

Peasholm Park Friends website.

---
North York Moors National Park
Starting just outside the the town of Scarborough is the beautiful scenery of the North York Moors National Park, which covers 554 square miles (1,435 square kilometres). Within its area are moorland and coast, historic stateley homes, remains of castles and abbeys, attractive villages and market towns and a historic railway. For more information see our page dedicated to the North York Moors.

---
Travel
Scarborough
Westborough
Scarborough station Scarborough station offers TransPennine Express services across Yorkshire to Seamer, Malton, York, Leeds, Dewsbury and Huddersfield, with trains continuing via Manchester to Liverpool. Northern operate services along the Yorkshire coast south of Scarborough to Seamer, Filey, Hunmanby, Bempton, Bridlington, Driffield, Beverley, Cottingham and Hull.
Station managed by TransPennine Express. Operators: TransPennine Express and Northern.



Northern - Scarborough Station and departure information at Northern website.

Bus services
Around two dozen bus routes operate from locations in Scarborough town centre to surrounding towns and villages. Inter-town services have stops or terminate near to the town's railway station at Westborough. Among other towns and resorts served by buses from Scarborough are Cayton Bay, Filey, Primrose Valley, Bridlington, Driffield, Beverley, Hull, Pickering, Thornton le Dale, Kirkbymoorside, Helmsley, Malton, Norton-on-Derwent, Robin Hood's Bay and Whitby. It is advisable to check timetables before setting out on buses as part of a day return trip from Scarborough as some routes to smaller outlying villages have an infrequent service.
Yorkshire Coastliner provide a regular 843 service from Leeds bus station via Tadcaster, York, Malton and Norton-on-Derwent to Scarborough.
Scarborough has a sea front service operated by open top buses providing a useful connection between the South Bay at The Spa and the North Bay at Peasholme Gap, with several stops along the route.
Road travel
The

A64

, a single carriageway road with short sections of dual carriageway, connects Scarborough with York and Leeds. The

A170

runs west from Scarborough just outside the North York Moors National Park, to Pickering, Helmsley and Thirsk. The

A171

runs a mile or two inland from the coast north of Scarborough, linking it to Whitby and continuing to Middlesbrough. The

A165

runs near to the coast south of Scarborough connecting the town to Filey, Bridlington and continuing to Hull.
In Scarborough there is pay and display car parking in many areas around the town, including around its Marine Drive, but this can soon fill at the peak of the holiday season. Permit, disc and restricted time parking operates on some streets.
Park and ride buses operate from car parks at Filey Road and Seamer Road, providing 15-minute journeys into Scarborough between 7am and after 6pm every day.
The HS2 effect
Our new Yorkshire.guide study has assessed cities and major towns throughout the Yorkshire region for the benefits HS2 will bring in travelling from Yorkshire to London when the proposed section between the Midlands and Leeds is complete in 2033. The line is also planned to link to existing lines to Sheffield and York. Each city or town has been given one of three simple ratings based on convenience and time saved over existing services.


White elephant:
Takes the same time or longer than an existing service* or saves less than 10 minutes while now causing a change of trains. (* or HS2 completed to Manchester).

Coffee break:
Saves 10 to 45 minutes. Time for a cup of coffee at your destination rather than on the train?

City slicker:
Saves 45 minutes or more on existing service getting you to that all-important London meeting in good time.
We've been fairly generous to HS2 in making the assessment. Where a change of trains is now needed, we have assumed that you are on the fastest train to the station where you change to HS2, that it arrives on time, you have 10 minutes to change to the HS2 platform and an HS2 train is waiting to depart at that time. No assessment is made of additional journey costs possible in connecting to or travelling on HS2. The assessment is made on journeys from Yorkshire to London with again no account taken of any convenience or inconvenience in arrival at London Euston rather than London King's Cross station. Further details about our study can be found on The HS2 Effect page.
Scarborough
There would potentially be a 29min time saving to London changing at York to the fastest train on the HS2 route compared with the current fastest East Coast Main Line trains.


Emergency services
North Yorkshire Police

North Yorkshire Police website.

North Yorkshire Fire and Rescue Service

North Yorkshire Fire and Rescue Service website.

Yorkshire Ambulance Service NHS Trust

Yorkshire Ambulance Service NHS Trust website.

HM Coastguard

Coastguard - Coastal safety webpage.


Local government
District authority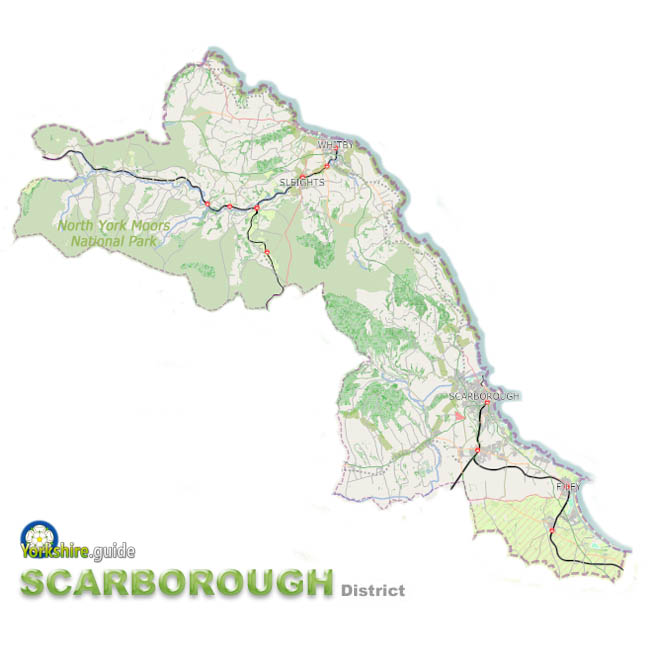 Scarborough Borough Council

Scarborough Borough Council covers a large district extending for around 40 miles along the coast to the north and south of Scarborough itself and for several miles inland, also including the towns of Whitby and Filey and many villages.

A large proportion of the district is within the North York Moors National Park.

Elections are held every four years.

A revision of wards on the council from May 2019 means the number of wards of Scarborough Borough Council is reduced from 25 to 20 and the number of councillors elected is reduced from 50 to 46. Each ward has one, two or three councillors.

More places in

Scarborough district.





The political composition after the 2019 election was:
46 members
---
County authority
North Yorkshire County Council
Includes the Scarborough borough and six other non-unitary districts of North Yorkshire.


North Yorkshire County Council website.

---
Police and Crime Commissioner
Police, Fire and Crime Commissioner North Yorkshire
Covers the county of North Yorkshire and

City of York.

Police, Fire and Crime Commissioner North Yorkshire website.

---
Fire Authority
The North Yorkshire Fire and Rescue Service was previously governed by the North Yorkshire Combined Fire Authority made up of elected members from across the broad areas of North Yorkshire and City of York councils which it serves. Following a ministerial announcement in June 2018 the governance of the fire service was transferred to the Police and Crime Commissioner for North Yorkshire from 15 November 2018.
Further information at the

North Yorkshire Fire and Rescue Service website.


Police and Crime Commissioner North Yorkshire website.

---
National government region
Yorkshire and the Humber

---
Ceremonial county
North Yorkshire

---
Historic
1835- Municipal Borough
1894-1974 Municipal Borough and Rural District within North Riding of Yorkshire
1974-present District authority (enlarged) within county of North Yorkshire

---
Also in Yorkshire.guide
Home
Travel
Places to visit
---