Filey
North Yorkshire
Filey is a seaside town in the Scarborough district of North Yorkshire.

Filey is a quiet and peaceful family resort with a fine expanse of beach and offering plenty of holiday accommodation.

Murray Street, Filey Royal Parade, Filey Music adds to its friendly atmosphere when there are musicians at the Filey Folk Festival, normally held in May, and Filey Music Festival, usually held in September.

Filey also offers a warm welcome to walkers and cyclists. It is at one end of the Cleveland Way long-distance walking trail starting in Helmsley, going around the edge of the North York Moors and then along the coastal path to reach Filey. In the opposite direction it is one end of the 79-mile Yorkshire Wolds Way walking trail to the Humber Bridge at Hessle.

Filey is also the finish of the Great Yorkshire Bike Ride, a 70-mile charity event starting in Wetherby. Although cancelled in 2021 due to Covid-19 restrictions, it is due to return on June 18, 2022.

Extending from the northern point of the beach is the long rocky headland of Filey Brigg, at one time the site of a Roman signal station. The Brigg is the venue of the annual Filey Fishing Festival held at the start of September. The beach at Filey has a Keep Britain Tidy Seaside Award.

The resort has a station on the line between Scarborough, Bridlington and Hull.

Town features
---

Filey has a sandy beach.
---

Filey is on the Cleveland Way long-distance trail, a 110-mile waymarked hiking path around the edges of the North York Moors and North Yorkshire coast with Helmsley and Filey at its end points.
---

Filey is on the Yorkshire Wolds Way long-distance trail, a 79-mile hiking trail with the Humber Bridge at Hessle and Filey at its end points.
---

The town has a rich variety of traditional shops. Filey offers bakery goods, butchers, antiques, crafts, furnishings, gifts, an outdoor market (Friday at The Three Tuns car park).
---

The town has a Post Office.
---

The town has pharmacies.
---

Filey has a number of pubs to choose from.
---

Restaurant dining and cafes can be found in Filey.
---

Takeaway food outlets in the town include fish and chips, chinese, pizzas, burgers, kebabs, sandwiches.
---

The town has a library.
---

Filey has a museum.
---

Filey has a theatre.
---

Filey has a community centre.
---

There are public toilets in the town.
---

Places of worship: Anglican, Catholic, Methodist.
---

Filey has tourist information.
---

Places to stay in Filey include hotel, guest house, inn, caravan, camping, holiday centre accommodation.
---

Filey was in the historic East Riding of Yorkshire.

---
Travel
Filey station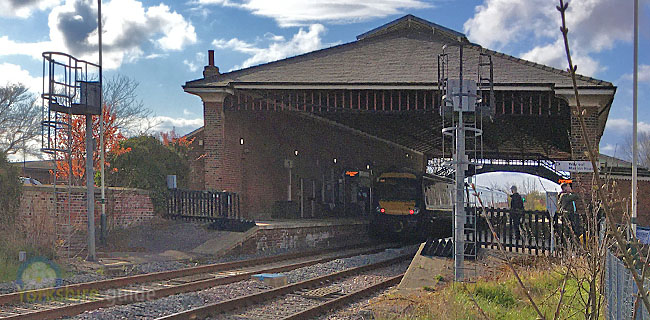 Managed by: Northern
Operator/s: Northern -



Northern - Filey Station and departure information at Northern website.


Bus travel
The town has a bus station with services to neighbouring towns and villages.
Road travel
Filey can be reached via the

(A165)

A1039
---
---
Places to visit
---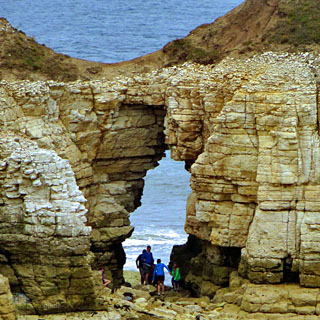 Heritage coast
A few miles south of Filey is spectacular chalk cliff headland of the Flamborough Heritage Coast, where there is one of the most important colonies of seabirds in Europe. The Flamborough headland's chalk coast features include stacks, caves and coves. The headland also has an early 19th century active lighthouse and an old chalk tower from the 17th century which is the oldest full lighthouse remaining in the country. For more see our Heritage Coast page.

---
Bempton Cliffs
At the northern end of the Flamborough headland are Bempton Cliffs where the RSPB has an accessible nature reserve with cliff edge viewing platforms and a seabird centre. Through the spring and summer the cliffs are alive with around a quarter of a million nesting birds, including the only mainland gannet colony in Britain. The cliffs also have a large colony of kittiwakes and are home to puffins between April and July.

---
Filey Museum
8 to 10 Queen Street, Filey
Filey Museum is a small museum run on a voluntary basis and is open from Easter to the end of October. The recently refurbished museum has displays arranged in seven themed rooms, including exhibitions on Bygone Filey, Victorian times, rural crafts, lifeboats and the seashore.

---
Scarborough Castle
Scarborough Castle
Castle Road
In its clifftop location on the headland between North and South Bays, the ruined castle is the centrepiece of Scarborough. The castle includes ruins from a 4th century Roman signal station and medieval chapel, but its most dominant feature is the half-ruined keep. The tower was built by Henry II between 1159 and 1169 and was used as a grand residence. Half its 12-foot thick walls were damaged during an English Civil War siege in 1645. The castle also has a rebuilt barbican gate tower and bridge from 1243 and remains of a royal lodging dating from the early 13th century. King John and Henry III invested heavily in the castle. In more recent history Scarborough Castle was one of the targets of the World War I bombardment of the town of Scarborough by German battlecruisers on December 16, 1914. Scarborough Castle is now managed by English Heritage.


---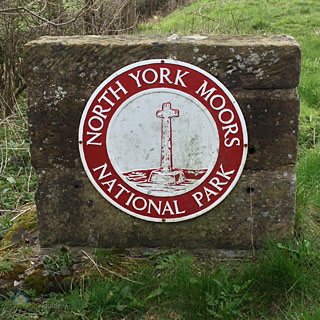 North York Moors National Park
Stretching inland from the coast to the north-east of Scarborough is the beautiful scenery of the North York Moors National Park, which covers 554 square miles (1,435 square kilometres). Within its area are moorland and coast, historic stateley homes, remains of castles and abbeys and attractive villages including

Goathland, famous as the location for TV's Heartbeat, and

Grosmont, location of the locomotive sheds of the North Yorkshire Moors Railway. For more information see our page dedicated to the North York Moors.

---
Emergency services
North Yorkshire Police

North Yorkshire Police website.

North Yorkshire Fire and Rescue Service

North Yorkshire Fire and Rescue Service website.

Yorkshire Ambulance Service NHS Trust

Yorkshire Ambulance Service NHS Trust website.

HM Coastguard

Coastguard - Coastal safety webpage.


Local government
---
Civil parish council
Filey Town Council
Provides some local services in the area.
Link to council website

Filey Town Council
---
District authority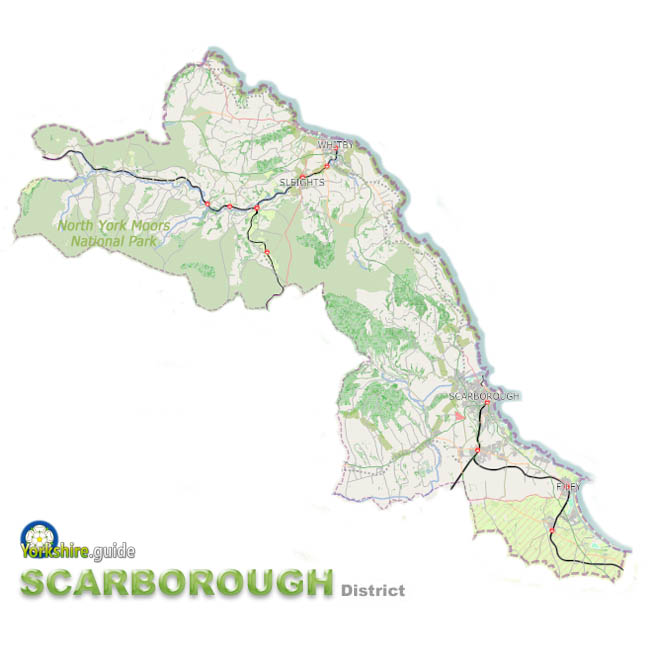 Scarborough Borough Council

Scarborough Borough Council covers a large district extending for around 40 miles along the coast to the north and south of Scarborough itself and for several miles inland, also including the towns of Whitby and Filey and many villages.

A large proportion of the district is within the North York Moors National Park.

Elections are held every four years.

A revision of wards on the council from May 2019 means the number of wards of Scarborough Borough Council is reduced from 25 to 20 and the number of councillors elected is reduced from 50 to 46. Each ward has one, two or three councillors.

More places in

Scarborough district.


The political composition after the 2019 election was:
46 members
---
County authority
North Yorkshire County Council
Includes the Scarborough borough and six other non-unitary districts of North Yorkshire.


North Yorkshire County Council website.

---
Police, Fire and Crime Commissioner
Police, Fire and Crime Commissioner North Yorkshire
Covers the county of North Yorkshire and

City of York.

Police, Fire and Crime Commissioner North Yorkshire website.

---
National government region
Yorkshire and the Humber

---
Ceremonial county
North Yorkshire

---
Also in Yorkshire.guide
New
Places to visit
Gazetteer
---