Ripponden
West Yorkshire
Ripponden is a village in the Calderdale metropolitan district of West Yorkshire.

The village is in the valley of the River Ryburn 3 miles south-south-west of Sowerby Bridge, 5 miles south-west of Halifax and 7 miles west-north-west of Huddersfield.

A charming heritage village, Ripponden has dozens of listed buildings, among them the rebuilt Ripponden Old Bridge beside which is The Old Bridge Inn where behind an exterior from the mid-1700s there are even older interior features and a history dating back to 1307.

Also next to the old bridge is St Bartholemew's Church. Dating from 1868, which it is the fourth to be built on the site since 1464.

Village features
---

The village is on the River Ryburn
---


Ripponden has local traders and a supermarket. Ripponden offers crafts, flowers, furnishings, gifts, jewellery and other goods.
---

The village has a sub-Post Office.
---

The village has pubs and a social club.
---

Ripponden has a selection of places to eat.
---

Takeaway food outlets in the village include fish and chips. .
---

The village has a library.
---

Place of worship: Anglican, Methodist.
---

Ripponden has an old parish church.
---

The village has a historic bridge and inn.
---
Travel
Bus travel
The village has buses to neighbouring towns and villages.
Road travel
Ripponden can be reached via the

A58

A672

B6133
---
---
Places to Visit
---
Shibden Hall
Shibden Hall Shibden Hall Road, Halifax
The hall, dating from 1420, is located alongside Shibden Park, which was formed from its estate. Exploring the house reveals a variety of architecture from the various periods of its history and an insight into the people who lived there over the years. One of those was Anne Lister, whose diaries in the early 18th century were the inspiration of the recent BBC period drama series "Gentleman Jack", written by Sally Wainwright. Much of the series was filmed in the real-life location at Shibden Hall. The house also has a 17th century barn housing a carriage collection. Shibden Hall is managed by Calderdale Council museums.
For more information see the

Calderdale Museums - Shibden Hall web page.
Locate on map:

Shibden Hall
---
Hardcastle Crags
off Midgehole Road, Hebden Bridge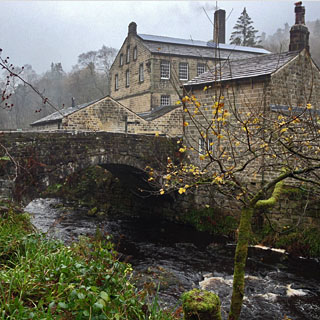 Hardcastle Crags is a delightful wooded valley about 2 miles north of Hebden Bridge with beautiful streams and more than 15 miles of footpaths. A visitor centre, cafe and shop is based in Gibson Mill, a former textile mill built around 1800, in the heart of the valley. The centre gets its power entirely from water turbines, solar panels and a biomass boiler, has a filtered spring water supply and recycles all waste. Hardcastle Crags is managed by the National Trust.
Find out more at the

National Trust - Hardcastle Crags website.

---
Eureka! The National Children's Museum
Discovery Road, Halifax
This modern museum near to Halifax railway station is full of interactive exhibits in themed galleries aimed at inspiring younger children to learn.
More information at

Eureka! website.

---
Wainhouse Tower
Wakefield Gate, off Skircoat Moor Road, King Cross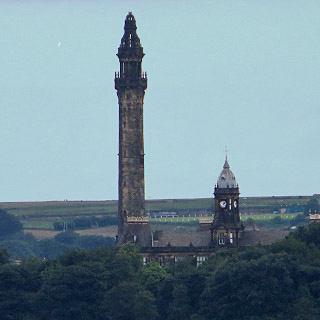 This facscinatingly ornate 77 metre (253 foot) tower overlooks the Calder Valley in the King Cross area of Halifax, 1.5 miles south-west of the centre. Although many legendary tales have developed about its construction, it was started as an elaborate mill chimney but finished as a folly. On bank holidays it is open to vistors, who can pay a small fee to climb its internal spiral staircase.
Locate on map:

Wainhouse Tower
---
Emergency services
West Yorkshire Police

West Yorkshire Police website.

West Yorkshire Fire and Rescue Service

West Yorkshire Fire and Rescue Service website.

Yorkshire Ambulance Service NHS Trust

Yorkshire Ambulance Service NHS Trust website.


Local government
---
Civil parish council
Ripponden Parish Council
Provides some local services in the area.
Link to council website

Ripponden Parish Council
---
Metropolitan district council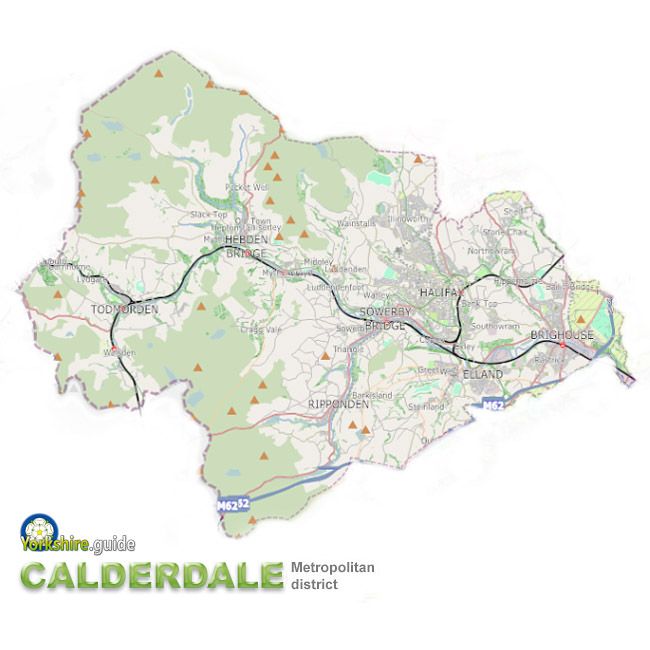 Calderdale Council

Calderdale Council is centred in Halifax and also covers many other towns and villages, principally along the upper Calder Valley, including Brighouse, Elland, Hebden Bridge, Ripponden, Sowerby Bridge and Todmorden.

Part of the district includes seven civil parish councils, four of which are small single ward councils.

Calderdale has 51 elected councillors, 3 per ward across 17 wards. Each councillor serves a 4-year term with one councillor per ward elected each year in 3 out of 4 years. An election of one-third of the council due to be held in 2020 has been postponed to 2021.


The political composition after the May 2019 election was:
51 members
---
County strategic authority
West Yorkshire Combined Authority
Covers some combined services of the five metropolitan district councils of West Yorkshire -

Bradford,

Calderdale,

Leeds,

Kirklees and

Wakefield - which were at one time provided by a West Yorkshire metropolitan county council, with the addition of the non-contiguous unitary authority area of the City of

York council as well as the unelected Leeds City Region Enterprise Partnership.

West Yorkshire Combined Authority website.

---
Police and Crime Commissioner
The Police and Crime Commissioner for West Yorkshire


Police and Crime Commissioner West Yorkshire website.

---
Fire Authority
West Yorkshire Fire Authority
The fire authority is made up of elected members of each of the five metropolitan district councils of West Yorkshire - Bradford, Calderdale, Leeds, Kirklees and Wakefield.


West Yorkshire Fire Authority web pages.

---
Ceremonial county
West Yorkshire

---
Historic
-1974 Within the West Riding of Yorkshire

Also in Yorkshire.guide
New
Places to visit
Gazetteer
---