Ripon
North Yorkshire
Ripon is the smallest city in Yorkshire, and one of the smallest in the UK, but is steeped in tradition and has over the years grown around its market square and its cathedral.

The city is in easy reach of some of Yorkshire's most outstanding areas of natural beauty. It is 10 miles north of Harrogate, 10 miles south-west of Thirsk, 10 miles east-north-east of Pateley Bridge and 22 miles north-west of York.

Ripon was the second place in Yorkshire, after York, to be recognised as a city. In 1836, Ripon became the cathedral city of a huge new diocese which took most western parts of Yorkshire from the Diocese of York. The cathedral, founded by St Wilfred, dates back to the 7th century (more below).

The Ripon Hornblower continues an ancient tradition in the city. Every night of the year at 9pm, the Hornblower blows the horn at the four corners of the Obelisk in Market Place and also outside the Town Hall, celebrating the many hundreds of years that a Wakeman, an overnight guardian against crime, provided a patrol of the city's streets.

The city had a railway station for nearly 120 years. The station was opened on the Leeds and Thirsk Railway in 1848, but was controversially closed under the Beeching cuts in 1967.

City features



Ripon's busy compact shopping area is centered around Market Place and is particularly bustling on a Thursday when it holds its market.
Shops range from local boutiques to major High Street retailers.

---

Ripon's main post office is in Finkle Street and there are post offices branches at Bondgate and Lark Lane.

---

The city has a choice of pharmacies.

---

Ripon has banks and a building society offices.

---

Ripon offers a wide choice of places to drink, from traditional Yorkshire pubs in the city to country inns in nearby villages.

---


Cafes, restaurants and inns provide a fine choice of fare at all times of day.

---

Ripon has a selection of takeaways offering fish and chips, pizzas and Indian and Chinese cuisine.

---

Ripon Library, run by North Yorkshire County Council, is at The Arcade.

---

There are several schools in and around Ripon.

---

Places of worship: Anglican, Catholic, Methodist, Baptist, other.

---

The River Laver joins the River Skell just south east of the city centre. The River Skell flows through Ripon to join the River Ure, which runs around the eastern side of Ripon.

---

The Ripon Canal stretches for just over 2 miles from the canal basin in Ripon to join the navigable part of the River Ure. It was originally opened in 1773. It became neglected and impassable by 1906, but was not formerly abandoned until 1956. The Ripon Canal Society spearheaded a restoration completed in 1996 and the canal is now looked after by the Canal and River Trust.

---
Ripon Cathedral
Minster Road
Ripon Cathedral is an ancient mother church of what is now a new diocese of the Church of England. The diocese was formed in 2014 from the dioceses of Ripon, Bradford and Wakefield and was named the Diocese of West Yorkshire and the Dales to gain public trust across its entire area, before it was later ordered to use what had actually been registered as its official name of the Diocese of Leeds. It is one of three anglican cathedrals within the combined diocese, the others being in Wakefield and Bradford. The cathedral was dedicated to St Peter in 672. It was founded by St Wilfred, who in 658 had become the Abbot of the recently founded monastery of Ripon. The crypt of the original Saxon church survives, but much of the splendid cathedral dates from later periods of rebuilding, with transepts dating from the late 12th century. Its west front, dating from the 1220s, is one of the finest examples of Early English Gothic architecture. The nave was rebuilt in the 16th century after the central tower collapsed in 1450.

More information at the Ripon Cathedral website.
---
Sport
Ripon Racecourse
Boroughbridge Road
The present racecourse opened in 1900, but there had been racing at various locations in the city long before that time, the first being recorded at Bondgate Green in 1664. In 1723, Ripon hosted the country's first recorded race exclusively for female riders. The present flat racecourse at Boroughbridge Road has a reputation as one of the best small racecourses in the north and in its beautiful surrondings is known as Yorkshire's Garden Racecourse.

---
Museums
Prison and Police Museum
St Marygate
The museum is based in a building with a prison and policing history, being a house of correction for vagrants from 1686 and a liberty prison for much of the 19th century before becoming West Riding Constabulary's police station for Ripon until 1956. Displays trace policing history and an extensive range of police and prison memorabilia are on show.

Further information at these Ripon Museums web pages.
---
Workhouse Museum & Garden
Sharow View, Allhallowgate
The gatehouse building of Ripon's former workhouse houses a museum providing a taste of life in a Victorian workhouse. The present building dates from 1855, but a workhouse had been on the site from 1776. Volunteers have also carefully restored the workhouse garden to an 1890s setting.

More details at these Ripon Museums web pages.
---
Courthouse Museum
Minster Road
The museum is housed in the former Quarter Sessions Courthouse built in 1830, which continued in use as a Magistrates Court after 1953 until its closure in 1998. The courthouse had remained largely unchanged when closed and model figures in period clothing show a typical 19th century scene in the courtroom.

Further details can be found at these Ripon Museums web pages.
---
Places to visit
Fountains Abbey
Fountains Abbey and Studley Royal Water Garden
Fountains, near Ripon, North Yorkshire
A World Heritage site containing Britain's most complete Cistercian abbey ruins. Fountains Abbey dates from 1132 when it became the home of 13 monks. The water gardens in the wooded valley of the River Skell were a Georgian addition to the Studley Royal Estate with features including classical statues, follies and garden buildings. Also on the estate are the 12th century Fountains Mill, the early 17th century Fountains Hall, the Porter's Lodge exhibition in the abbey gatehouse, St Mary's Church, a splendid Victorian Gothic Church, and a deer park. The estate is off the B6265 Ripon to Pateley Bridge road about 3 miles south-west of Ripon and is managed by The National Trust.

Find out more at the

National Trust - Fountains Abbey and Studley Royal website.

---
Lightwater Valley
North Stainley
Lightwater Valley is a theme park in 70 hectares of countryside off the A6108 near North Stainley about 4 miles north-north-west of Ripon. It also includes an Angry Birds Activity Park, falconry centre, farm, a country shopping village, cafe and more than 40 rides and attractions, including Europe's longest roller coaster ride, The Ultimate.

---
Newby Hall & Gardens
Skelton on Ure
Newby Hall is a family home eight miles north-north-east of Harrogate (about 15 miles by road). It is a fine example of an Adam House, a style practised by the Scottish Adam brothers in the 18th century. Originally built in the late 17th century by Sir Christopher Wren, it was enlarged by John Carr and later modified by Robert Adam. The house has stunning 18th century interior decoration, a dolls house exhibition, Gyles Brandreth's teddy bear collection, a miniature railway and beautiful gardens with a relatively modern design dating from the early 1920s. In July, the hall is a venue for a historic vehicle rally.
For more information see the

Newby Hall & Gardens website.

---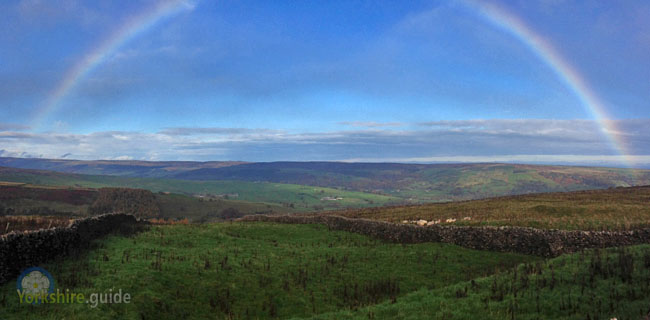 Nidderdale Area of Outstanding Natural Beauty
Extending across an area of 232 square miles (600 sq km), the Nidderdale Area of Outstanding Beauty starts 2 miles from Ripon. It covers an area between those towns and the Yorkshire Dales National Park, just a few miles further away. At its centre is the small town of Pateley Bridge. The area has a beautiful and varied landscape including rolling heather-topped moorland, stone-walled agricultural fields and farms, small villages, lake-like reservoirs and some outstanding geological features, the best known of which are Brimham Rocks. The area has a number of protected wildlife sites and provides important habitats for several varieties of birds, reptiles and animals, including otters and water vole. The area has been shaped both by nature and by human activity. The latter ranges from Iron Age settlements, old mines, quarry sites, a scattering of textile mills, traditional field barns, some historic parks and gardens and the area's huge reservoirs. See more on our Nidderdale page.

---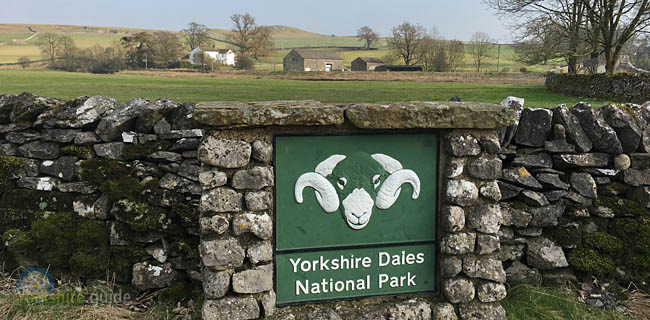 Yorkshire Dales National Park
After going through the Nidderdale Area of Outstanding Natural Beauty, the 841 square miles (2,179 square kilometers) of the Yorkshire Dales National Park starts just 15 miles west of Ripon. Find out more on our Yorkshire Dales National Park page.


---
Travel
Bus services
Bus services operate to many neighbouring towns from the bus stands at Moss Arcade. Destinations served include Bishopton, Boroughbridge, Harrogate, Knaresborough, Leeds, Leyburn, Northallerton, Masham, Melmerby/Harrogate, Minskip, Richmond, Studley Roger, Thirsk and York . National Express coach services operate to London, Corby, Glasgow and Ashington in Northumberland.
Road travel
Ripon is about 5 miles from the A1(M) allowing fairly easy north-south access across Yorkshire. It is just 15 miles from the edge of the Yorkshire Dales National Park, 3 miles from the Nidderdale Area of Outstanding Natural Beauty and 16 miles from the edge of the North York Moors National Park
---
Emergency services
North Yorkshire Police

North Yorkshire Police website.

North Yorkshire Fire and Rescue Service

North Yorkshire Fire and Rescue Service website.

Yorkshire Ambulance Service NHS Trust

Yorkshire Ambulance Service NHS Trust website.


Local government
Civil parish council
Ripon City Council
Ripon City Council, based at the Town Hall in Market Place South in Ripon, is a civil parish council of 15 councillors and provides a limited range of services within the city. It is represented at civic functions by The Mayor of Ripon.

---
District authority
Harrogate Borough Council

Harrogate is the administrative centre of Harrogate Borough, one of the large district authorities of the North Yorkshire County Council area and the most populous of its seven districts.

The borough also includes many other villages, towns including Knaresborough, Boroughbridge and Pateley Bridge and the city of Ripon.

Within the borough are 76 town and civil parish councils and 11 parish meetings.

The borough council was made up of 54 elected members with one-third elected in each year out of four, but from 2018 there are now 40 elected members elected each four years.


The political composition after the May 2018 election was:
40 members
---
County authority
North Yorkshire County Council
Includes the Harrogate borough and six other non-unitary districts of North Yorkshire.


North Yorkshire County Council website.

---
Police and Crime Commissioner
Police, Fire and Crime Commissioner North Yorkshire
Covers the county of North Yorkshire and

City of York.

Police, Fire and Crime Commissioner North Yorkshire website.

---
Fire Authority
The North Yorkshire Fire and Rescue Service was previously governed by the North Yorkshire Combined Fire Authority made up of elected members from across the broad areas of North Yorkshire and City of York councils which it serves. Following a ministerial announcement in June 2018 the governance of the fire service was transferred to the Police and Crime Commissioner for North Yorkshire from 15 November 2018.
Further information at the

North Yorkshire Fire and Rescue Service website.


Police and Crime Commissioner North Yorkshire website.

---
Ceremonial county
North Yorkshire

---
Historic
1835-1974: Municipal borough in the West Riding of Yorkshire.
1974-present: Within Harrogate borough in the county of North Yorkshire.

---
Also in Yorkshire.guide
In Harrogate district: Boroughbridge Harrogate Knaresborough Masham Pateley Bridge



Home

Travel

Places to visit
---