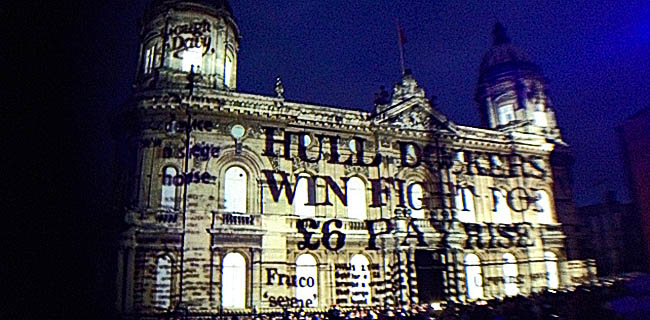 Museums
Explore Yorkshire's rich history
---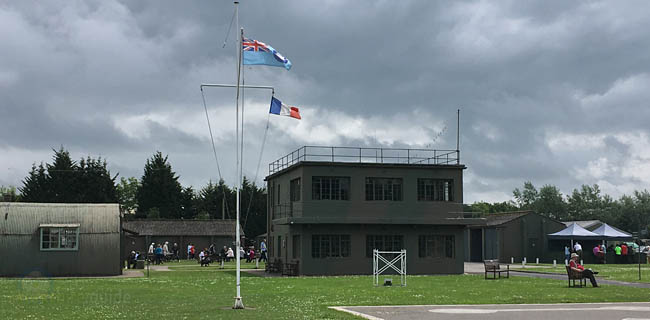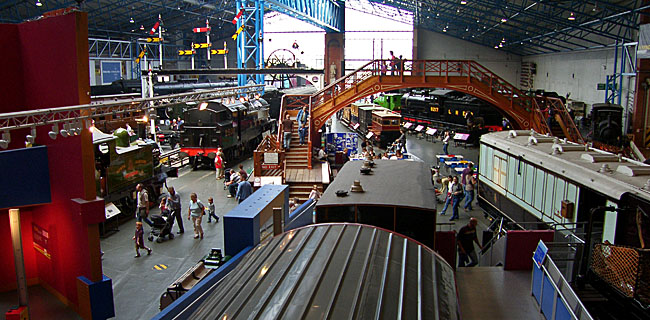 Across Yorkshire there are hundreds of museums to be explored, recording the region's significant history, its diverse industries and characters from Yorkshire whose names became known across the globe.
Some of the museums are of world-class and national importance. The National Railway Museum, the National Science and Media Museum and National Coal Mining Museum for England are all in Yorkshire.
Many towns and even some local villages also have museums, charting the course of their area, crafts and industries which developed there or famous characters who once lived there. While there are still a great many to choose from, it has been sad to see some towns lose their public display of historical artefacts in recent years as large-scale district local authorities running museums across many distinct towns made cuts in some places.
On this page we've picked a selection of museums we feel are must-see attractions or well worth visiting to see some of the diversity of the Yorkshire region and its past, but you will find many more museums as you browse through the different towns and cities featured in Yorkshire.guide
Most attractions and facilities have reopened with new Coronavirus (Covid-19) prevention practices. A few may still be closed or may now have different opening times. Many attractions may now require a timed ticket to be obtained before arrival. Clicking on the links to the attraction operator's own website will provide more specific and updated information.

If you need the latest official UK government information on Coronavirus (Covid-19), including links to NHS advice and to what you currently can and cannot do in England, it can be found at this GOV.UK - Coronavirus webpage.
16 great Yorkshire museums
Brontë Parsonage Museum
Church Street, Haworth
Brontë Parsonage Museum The village of Haworth was the one-time home of the literary Brontë sisters and the parsonage where they lived is now the Brontë Parsonage Museum. The museum is run by The Brontë Society and holds the world's largest collection of Brontë works and memorabilia including an extensive library devoted to the literary family. The museum opens daily except on a few dates around Christmas and New Year.
More details at the

The Brontë Society website.
Locate on map:

Brontë Parsonage Museum
---
Captain Cook Memorial Museum
Grape Lane, Whitby
A fascinating and detailed insight into the great voyages and life of Captain James Cook and his crews as he navigated coastlines and charted much new territory, including circumnavigating New Zealand and building upon the work of other sea explorations and Dutch explorers who had sailed to Australia before him. Excellently presented information about the explorer is contained in the museum in a 17th century house where Cook lodged as an apprentice and trained as a seaman. The museum is open from February to November with opening by appointment in the winter.
More details at the

Captain Cook Memorial Museum website.

---
Eureka! The National Children's Museum
Discovery Road, Halifax
This modern museum near to Halifax railway station is full of interactive exhibits in themed galleries aimed at inspiring younger children to learn.
More information at

Eureka! website.

---
Jorvik Viking Centre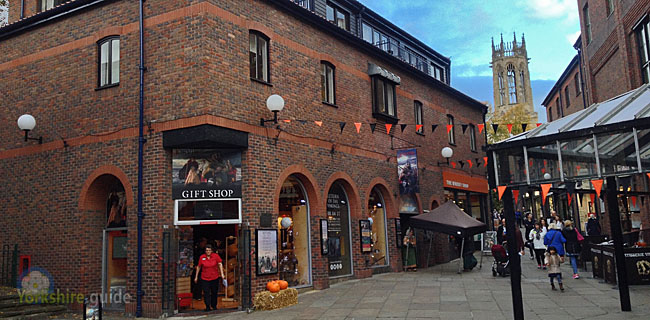 Coppergate, York
The centre, owned by the York Archealogical Trust, shows York's Viking history with a journey through scenes recreating its Viking streets. The centre has been fully refurbished after flooding in 2015 and offers a ride through animatronic figures amid the sights, sounds and smells of York's 10th century streets.
More information at

Jorvik Viking Centre website.

---
Magna Science Adventure Centre
Sheffield Road, Templeborough, Rotherham
Set in Rotherham's old Templeborough steelworks, Magna offers an insight into the world of steelmaking and much more. It offers a fascinating exploration into the world of science and technology through areas of air, earth, fire and water. Among the highlights are a fire tornado and the chance to operate a JCB. Magna is about 2 miles to the south-west of Rotherham town centre and is on the 69 Rotherham to Sheffield bus route.
More information at

Magna website.

---
Maritime Museum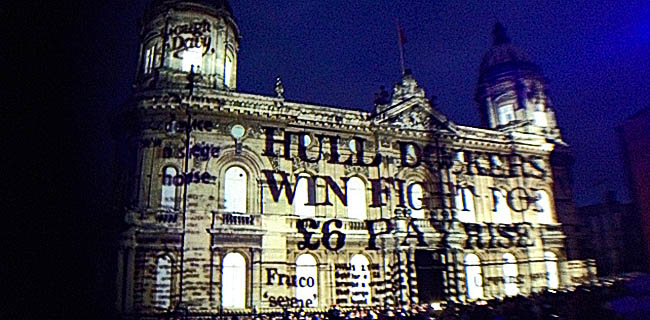 Queen Victoria Square, Hull
Hull's maritime heritage from the 18th century to the present is revealed in this museum housed in Victorian dock offices. Exhibits, including a full-sized whale skeleton and models of ships, tell the story of whaling, fishing and the merchant fleet.
More details at the

Maritime Museum Hull Culture & Leisure web page.

---
National Coal Mining Museum for England
National Coal Mining Museum for England Wakefield Road, Overton
The National Coal Mining Museum for England is mid-way between Wakefield and Huddersfield, about 6 miles from each, on the main A642 road at Overton. It is also around 10 miles from Barnsley and just under 5 miles from Dewsbury. The former Caphouse Colliery has exhibits showing the history of mining in the Yorkshire coalfield and beyond. The museum also offers the chance to don a miner's helmet to take an underground tour down the mine. The tour takes about an hour and shows the changes in mining and conditions in the pit through its history. There's also chance to meet pit ponies, to take a trip on a colliery railway, to walk its nature trail or relax with food or a drink in its cafe.
More details at the

National Coal Mining Museum website.

---
National Railway Museum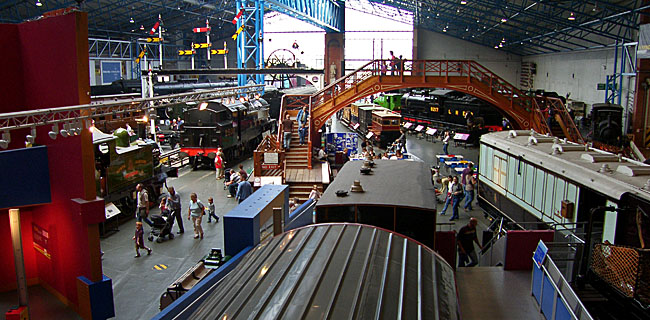 Leeman Road, York
Huge halls of locomotives and trains feature in this exhibition covering Britain's railway history from early horse-drawn and steam power to modern high speed trains.
More details at the

Railway Museum website.

---
National Science and Media Museum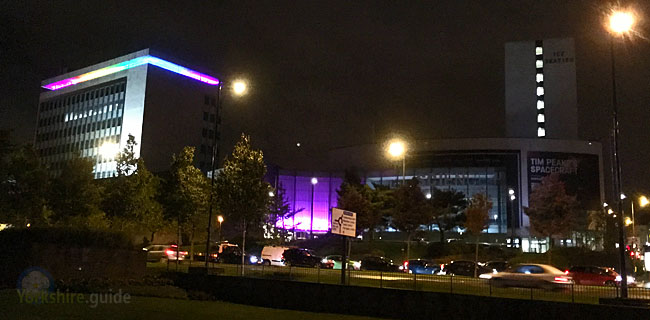 Pictureville, Little Horton Lane, Bradford
The museum near the city centre has galleries on seven floors and three cinemas, including Yorkshire's biggest IMAX screen. Galleries include Wonderlab, which features fun interactive experimentation with light and sound, there's a games lounge featuring retro computer games, hands-on experience of the development of television, a gallery on the history of photography, original models from Wallace and Gromit and Morph in the animation gallery, the chance to discover old films and rare TV programmes and a gallery on the impact of the internet. There are also changing media-related exhibitions. The museum is closed by 6pm each day, but its cinemas are open into the evening.
More details at the

National Science and Media Museum website.

---
Royal Armouries Museum
Armouries Drive, Leeds Dock, Leeds
The Royal Armouries opened a museum in Leeds in 1996 to display some of the large national collection of arms and armour historically based at the White Tower of the Tower of London. Housed in a purpose-built modern building at Leeds Dock, near the city centre, arms and armour from Britain and across the world is exhibited in themed galleries, with a programme of live shows and demonstrations. The museum opens daily from 10am to 5pm with last admisssion at 4.30pm.
More details at the

Royal Armouries website.

---
The World of James Herriot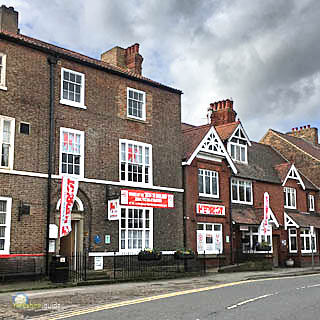 23 Kirkgate, Thirsk
This museum pays tribute to vet and author James Herriot and offers a wealth of things to see at his original practice surgery. The writer, whose real name was James Alfred Wight, wrote a series of semi-autobiographical books through the 1970s which were adapted for two films and a popular BBC TV series. Alf Wight continued to write through the 1980s and early 1990s, focusing more on children's books later in his life. The museum presents the house as it would have been in the 1940s and has an air-raid shelter in the cellar. There is a big display of veterinary instruments from the past to the modern day, a farrier's workshop, a massive collection of James Herriot memorabilia and a behind the scenes look at TV's "All Creatures Great and Small" including a restored vintage car used in the series.
More information at

The World of James Herriot website.

---
Yorkshire Air Museum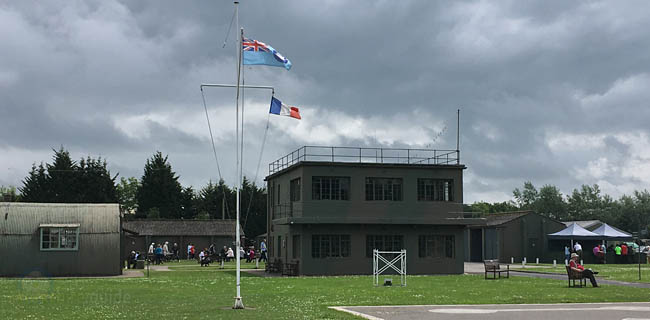 Halifax Way, Elvington, near York
The Yorkshire Air Museum is at the former RAF Elvington, about 3 miles south-west of York. During World War II it was an RAF Bomber Command Station used by Allied bomber crews, including Frence Air Force squadrons. The museum now situated there has a huge range of exhibits taking visitors from the earliest pioneers of aviation, including Yorkshireman George Cayley, through both World Wars and the Cold War era. More than 60 aircraft and flight-related vehicles are on show at the airfield. The museum is also the location of the Allied Air Forces Memorial, commemorating all allied airmen and women.
More details at the

Yorkshire Air Museum website.

---
York Castle Museum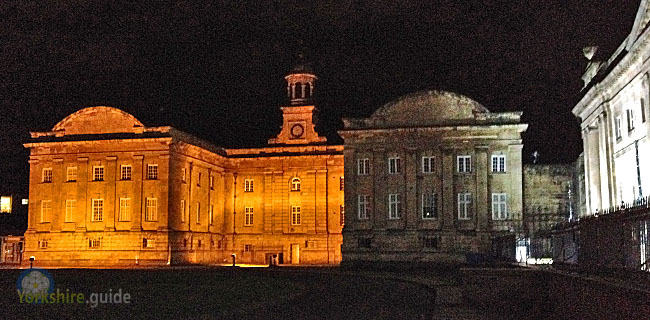 Eye of York
Set in 18th century prison buildings, the museum shows how York and its castle have been a site of justice for nearly 1,000 years, with stories including the legendary highwayman Dick Turpin and the last woman to be burnt at the stake in Yorkshire. The museum also features a recreation of a Victorian street, a water mill and exhibits from time of change in the 20th century. The museum also has exhibits from the city's chocolate-making past, in particular Terry's, which produced chocolate in York until 2005 and could trace its history in the city back to 1767.
More details at the

York Castle Museum website.

---
Yorkshire Museum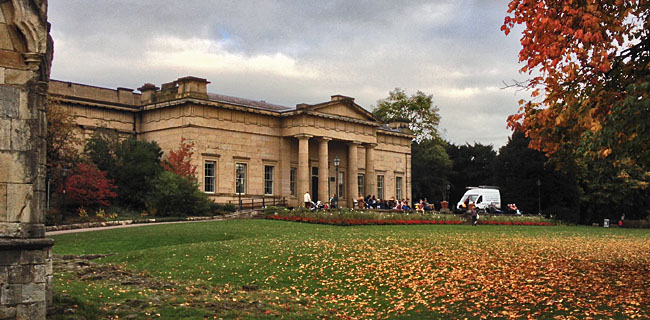 York Museum Gardens, York
The Yorkshire Museum features exhibits ranging from dinosaurs to a 11,000-year-old Mesolithic pendant, Roman, Viking and medieval discoveries. The museum is set in botanical gardens also featuring the ruins of the medieval St Mary's Abbey.
More information at the

Yorkshire Museum website.

---
Yorkshire Museum of Farming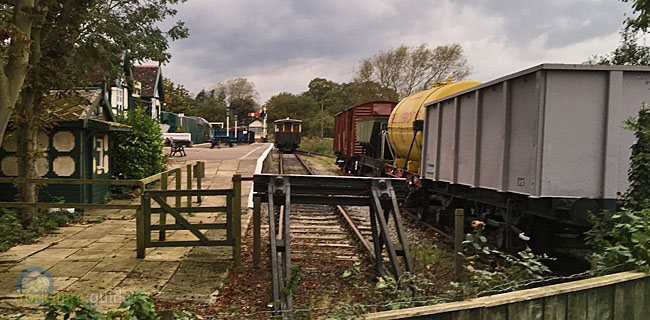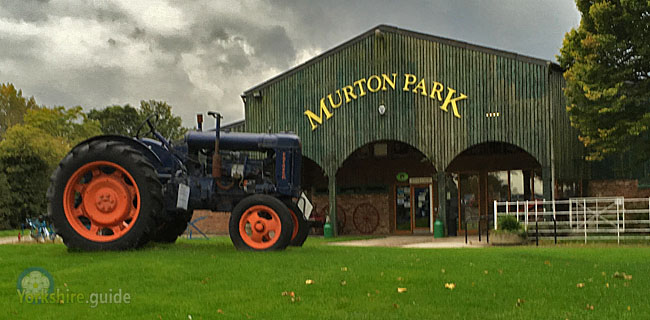 Murton Park, Murton, near York
Murton Park, about 3 miles east of the city centre, is the location of the Yorkshire Museum of Farming, which has a wide range of historic agricultural machinery and implements, a large photgraphic collection and a gallery deticated to the Women's Land Army. The park is also the home of the Danelaw Centre for Living History and the Derwent Valley Light Railway, where trains are run on Sundays and Bank Holidays on the surviving half-mile of this former 16-mile agricultural light railway.
More information at the

Yorkshire Museum of Farming website.

---
Zetland Lifeboat Museum and Redcar Heritage Centre
Esplanade, Redcar
Redcar's original lifeboat 'Zetland', built in 1802, is now the world's oldest surviving lifeboat and well worth a visit. Long before the days of the RNLI, the boat was the 11th to be built by Yorkshireman Henry Greathead. After moving to South Shields, County Durham, early in his life, he built more than 30 life-saving boats. The large open wooden rowing vessel which saved 500 lives in its 78-year service is housed in an old lifeboat station which now charts its history. The boat's historical importance is such that it listed on the National Historic Ship Register. Upstairs is a museum with a fascinating selection of boat models, nautical instruments and displays of past photographs of Redcar's seaside history and the boats that were wrecked on its hidden rocks. The free entry museum is supported by volunteers, donations and fundraising.
More information at

Zetland Lifeboat Museum website.

---
Also in Yorkshire.guide
Home
Travel
Places to Visit
---