New Northern trains roll out for long journey by road
March 2, 2018
The first of the new trains which will operate in Yorkshire and other parts of northern England on Northern by Arriva services from the end of 2018 has been completed and has made its first move at the CAF factory in Spain.
But after a few metres it was to be put on to a road lorry for a long journey first to Germany, where the Arriva parent company, German state-owned Deutsche Bahn, is based. It will then be loaded back on to a lorry to be taken to Velim in the Czech Republic for testing on a test track.
After the long journey across Europe the first new trains should arrive in the UK by the summer for further testing before they are put into passenger service in December.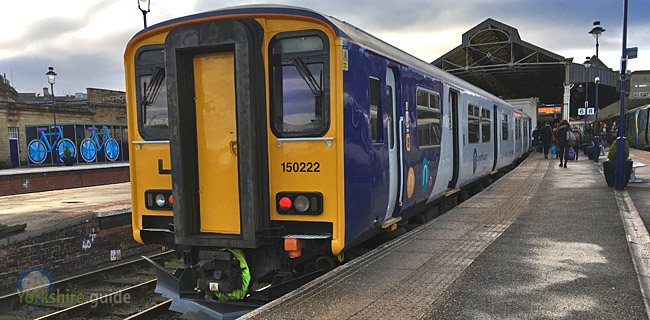 The new trains have streamlined fronts and modern equipment like electric sockets and wifi, but will not look out of place alongside the Sprinter units built in York in the 1980s which they will work alongside. They will, however, allow the bus-like Pacer trains of similar age to be withdrawn.
The company is promising, by 2020, a total of 98 of the new trains which are capable of 100mph where the track allows. Some 43 will be built as Class 331 three and four coach electric trains. The first train to roll out is one of 55 Class 195 two and three coach diesels.
More information at

Northern Railway
Video: Northern Railway video on YouTube. Picture: A York-built Sprinter train from the 1980s.
Also in Yorkshire.guide
New
Travel
Places to visit
---